<![if !vml]>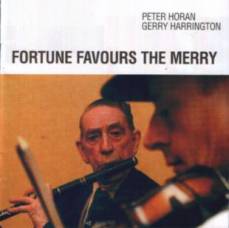 <![endif]>Peter Horan, Gerry Harrington
Fortune Favours the Merry
Cló Iar-Chonnachta CICD 158
<![if !supportEmptyParas]> <![endif]>
Various Artists
Within a Mile of Kilty
Cló Iar-Chonnachta CICD 159
<![if !supportEmptyParas]> <![endif]>
The Mulcahy Family
Notes from the Heart
Cló Iar-Chonnachta CICD 160
<![if !supportEmptyParas]> <![endif]>
Connemara's estimable Cló Iar-Chonnachta seems to be the only one of Ireland's traditional music labels still releasing new material and these three markedly different albums demonstrate the range of its programme.
<![if !supportEmptyParas]> <![endif]>
Fortune Favours the Merry features the septuagenarian South Sligo flute-player, Peter Horan, renowned for his erstwhile partnership with the late Fred Finn and here joined by another fiddler, Gerry Harrington from Sliabh Luachra, with Ollie Ross at the piano. Apparently the musicians only rehearsed for a couple of hours or so before recording this sprightly selection of tunes. You'd never be aware of that fact from their spirited instrumental intertwining, except that Peter and Gerry have clearly plumped for common elements in their respective repertoires, rather than tunes more associated with their respective locales. So there's a preponderance of melodies made familiar by the recordings of Michael Coleman, Paddy Killoran and James Morrison in addition to those by less well-known figures such as Patrick Kelly. Still, it's all a rollicking ride, easy on the ear and reflective of the fun the pair must have enjoyed while laying down their tracks.<![if !vml]>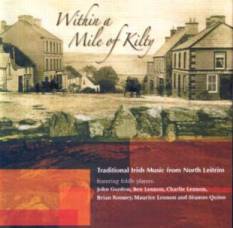 <![endif]>
<![if !supportEmptyParas]> <![endif]>
In contrast, Within a Mile of Kilty is a far more local affair and focuses on musicians associated with the village of Kiltyclogher in the glens of North Leitrim and those who crossed the Fermanagh border to play there. The Kiltyclogher element is provided by brothers Ben and Charlie Lennon and the latter's son Maurice (once of Stockton's Wing), as well as the long-time London session stalwart Brian Rooney, while the Fermanagh interlopers include the late John Gordon, Séamus Quinn, Altan's Ciarán Curran on cittern and Gabriel McArdle on concertina. Tunes represented here generally fit more readily into the local parameters exhibited on the Claddagh release Dog Big Dog Little (also featuring several of the participants) and are played with that vivacious swing and sway associated with this part of County Leitrim.
<![if !supportEmptyParas]> <![endif]>
<![if !vml]><![endif]>Lastly, Notes from the Heart is the second album to feature the West Limerick triumvirate of accordeonist Mick Mulcahy and his daughters Louise (flute and uilleann pipes) and Michelle (fiddle, concertina, harp and piano), though very much focuses upon tunes from the tradition of neighbouring Clare and, further north, Galway. It's a very mellifluous brew and by far the most successful of these three albums, thanks to the kind of delicious instrumental interplay which only arises through (in this case, literally) familiarity. Their version of Junior Crehan's Her Long Golden Hair instantly sends the mind drifting towards Miltown Malbay while Louise's pipes shine on a set of Sliabh Luachra slides.
<![if !supportEmptyParas]> <![endif]>
For a longer review of Notes from the Heart written by Fred McCormick visit Musical Traditions.
<![if !supportEmptyParas]> <![endif]>
<![if !supportEmptyParas]> <![endif]>
Geoff Wallis
<![if !supportEmptyParas]> <![endif]>
October, 2005
---
<![if !supportEmptyParas]> <![endif]>
This review was originally written for fRoots magazine. The CDs are available directly from Cló-Iar Chonnachta.
<![if !supportEmptyParas]> <![endif]>
---
<![if !supportEmptyParas]> <![endif]>
<![if !supportEmptyParas]> <![endif]>
<![if !supportEmptyParas]> <![endif]>
<![if !supportEmptyParas]> <![endif]>