The Humours of Piping
Lochshore CDLDL 1299; 53 minutes; 2001
There have been several remarkable compilations of uilleann piping over the years (most notably Claddagh's two volumes of The Drones and the Chanters), but this has to be the first to concentrate entirely upon pipers from Northern Ireland. Though not possessing as strong a piping tradition as other parts of the islands, the region has still produced a significant number of well-known names, including Seán McAloon, Joe McHugh, Joe McLaughlin, the McPeakes, Brian and Cillian Vallely, Robbie Hannan and, probably the best known of the present coterie, John McSherry. <![if !vml]>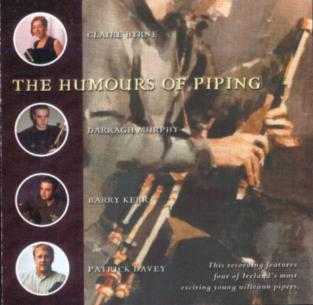 <![endif]>
The Humours of Piping focuses on four young members of the crop: Claire Byrne (from Newry); Patrick Davey (from Belfast); Barry Kerr (from Lurgan); and Darragh Murphy (also from Newry). That three come from County Armagh is strong evidence of the instrument's revival there, stimulated by the work of Brian and Eithne Vallely and The Armagh Pipers Club. Barry Kerr recorded his own mainly flute-focussed album, The Three Sisters, in 1998, while Patrick Davey is a member of Craobh Rua and featured on the band's last album If Ida Been Here, Ida Been There (2000). As far as I am aware The Humours of Piping marks the recording debuts of both Darragh Murphy and Claire Byrne. The latter, of course, is now one of the few women pipers to have been recorded (alongside Máire Ó Grada and Emer Mayock).
Each piper has been allocated a quarter of the album's sixteen tracks, though lovers of unaccompanied piping should beware that only two tracks (Claire's rendition of the air Bean Dubh a'Ghleanna (Dark Woman of the Glen) and Barry's version of Garret Barry's Jig) are unsullied by guitars often far too prominent in the album's overall mix. Although the guitarists are almost all of a high standard (with one notably thoughtless exception), it is disappointing that these four pipers feel unable to demonstrate their virtuosity without a background of strummed steel strings.
That said, as anyone familiar with his playing would expect, Barry Kerr runs away with the show by some distance. Fast-paced and tight-fingered like his major influences, Johnny Doran and Paddy Keenan, his playing of Tá an Coileach ag Fógairt an Lac (When the Cock Crows it is Day)/The Blackthorn Stick (single and double jigs respectively) is just breathtaking.
Patrick Davey's four tracks offer a welcome variation in that on two he employs a flat set of pipes pitched in C. The first of these is an effortless rendition of Marbhna Luímhní (Limerick's Lamentation) which is marred by some particularly inappropriate guitarwork by Christine McKenna, while the second sees a perky coupling of the hornpipes Tomorrow Morning and Murphy's. The latter is ruined by high-pitched guitar plucking more suited to an edition of Playschool (with apologies to Brian Cant).
Claire Byrne kicks off the album's proceedings with a quickfire set of reels, while also opts for that old pipers' chestnut The Frieze Britches, allowing her to demonstrate accomplished rolls and triplets. She also produces a fine pair of hornpipes (Dunphy's and The Derry), the former played both with and without drones, while again a too prominent guitar undermines an able rendition of the latter tune.
Lastly, the producer of this album, Craobh Rua's Brian Connolly, has done Darragh Murphy a great disservice by placing the guitarist, Ian Smith, far too obtrusively in the mix. Darragh's undoubted talents are allowed to shine only on the double jig Out on the Road (where Smith is content to replicate the pipes' drone) and on the air Ag Taísteal na Blárnan (Travelling through Blarney). However, even in the case of the latter, the effect is diminished once the tune runs into more heavyweight accompaniment for The Boy in the Gap.
---
This review by Geoff Wallis was originally written for Musical Traditions – www.mustrad.org.uk.
For more information about Lochshore and KRL releases visit /www.lochshore.com.
---