Irish Accordion Favourites Vol. 2
Sharpe Music RBC 511; no duration time provided; undated cassette release
This looks and feels just like one of those many releases on the Outlet label (and quite possibly is such), but the catalogue number does not follow the usual pattern and the liner bears a little box stating that this cassette was marketed and distributed by Sharpe Music of Irish Street, Dungannon. Indeed should the purchaser have been inclined, she or he could have returned a card to said music boutique requesting more information, even indicating the reason for purchase, though I am unsure whether "Because it was my Uncle Mick's birthday and I loathe the old sod!" would have been received in the spirit with which it was intended.  <![if !vml]>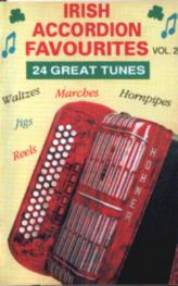 <![endif]>
Anyway, for their hard-earned readies, accordion-loving aficionados receive, as the liner suggests, twenty-four tunes spread over eighteen tracks from three featured musicians: Kevin Loughlin, Séamus Shannon and John O'Neill. Both whether these are "great tunes" and whether such tunes as Sicilian Tarantula and Tico Tico (pace Dermot Byrne) can be regarded as "Irish Accordion Favourites" is certainly open to question.
Whatever the case, the best tracks belong to Kevin Loughlin from County Fermanagh who did actually record for Outlet and offers a relaxed, if sometimes stately precision. His version of Banks Hornpipe is perhaps aimed at dancers of a certain age and piano accompanists who have difficulty maintaining the tempo. John O'Neill follows closely as runner-up, offering some spirited playing of jigs and reels, including a superb version of Paddy O'Brien's Reel. However, in well-deserved third place comes Séamus Shannon who has been murdering music for many years in the name of bad taste and proceeds to do so here on virtually every single appearance.
Enough said!
---
This is an original review by Geoff Wallis.
---
<![if !supportEmptyParas]> <![endif]>