Iontach
The Half Gate
Own label CD 176; 56 minutes; 2004
Based in Wremen, Germany, Iontach is a trio consisting of Angelika Berns from the Ruhr (who sings, plays keyboards, whistle and percussion), Dundalk-born Siobhán Kennedy (who sings, dances and plays flute, whistles and fiddle) and Jens Kommnick from Bremerhaven who really does put the word 'multi' into multi-instrumentalist. For, apart from also supplying vocals, wait for it, Jens provides guitar, bouzouki, mandolin, uilleann pipes, whistle, cello, bass, piano and rainstick. Now, with the exception of the last-named, all of these instruments take some time to master, so one wonders how Jens has managed to ensure that certain life essentials, such as breathing and eating, have been fulfilled!
<![if !vml]>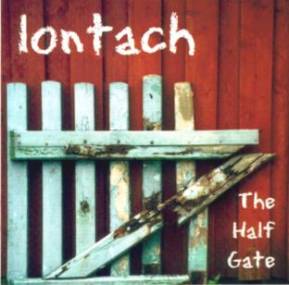 <![endif]>
The Half Gate appears to be the band's debut album (though forgive me if I'm incorrect) and is unquestionably a very mixed bag. The reasons for suggesting inconsistency are multi-fold and best dealt with first before progressing to the album's more pleasurable aspects.
<![if !supportEmptyParas]> <![endif]>
Firstly, there is a very obvious Lá Lugh influence. No fewer than three of the album's thirteen tracks derive from albums recorded by Éithne Ní Uallacháin and Gerry (fiddle) O'Connor: Brighid's Kiss; Tá Sé 'na Lá; and Senex Puer. Presumably, this factor owes something to Siobhán's Dundalk origins, but, while not suggesting that Iontach is by any means a Lá Lugh tribute band, those three tracks carry a heavy weight which does not sit kindly with the overall mood of the album, especially when Senex Puer is given a completely inappropriate swing backing.
<![if !supportEmptyParas]> <![endif]>
Next (and see the discussion of the problem in my Cara review), though possessing a fine singing voice, Angelika does have a somewhat strong German accent which these ears find a little intrusive when she sings Ewan MacColl's Terror Time or Pete Morton's Another Train, but much more disturbing when she supplies the spoken introduction to Shaun Davey's Ripples in the Rockpool and then proceeds to sing that song. The problem is, unfortunately, exacerbated because she also seemingly has difficulties in pronouncing the letter 'r' which means that the song actually becomes 'Wipples in the Wockpool'. There's also the overriding sense that she might not actually understand the meaning of the English language lyrics that she sings or lack the ability to interpret them appropriately. This is most apparent on Terror Time, one of MacColl's most powerful songs, but, when delivered by Angelika, one that lacks any of the passion which imbued Ewan's lyrics. None of this is intended to be xenophobic – far from it – but just reinforces my feeling that one has to understand a language fully before attempting to sing in it (and I would make exactly the same point about a non-Irish-speaking English person singing in Gaelic!).
<![if !supportEmptyParas]> <![endif]>
The third point involves revealing another personal bias. The track Lamenting Mulloney (surely this should be 'Maloney' or 'Moloney') features Jens playing uilleann pipes on the air Limerick's Lamentation which he does rather well. The problem is that the impact of the air has been dissipated by the use of an electronic keyboard as accompaniment. It's naff and it's tasteless – enough said.
<![if !supportEmptyParas]> <![endif]>
By this time, you're probably thinking that I've dug Iontach a deep enough hole, but, unfortunately, I haven't finished yet. Siobhán appears to be a pretty tasteful fiddler, but any impact she might have on, for instance, a set called String Jigs is completely marred by some awful cod-Nigel Kennedy cello and keyboards backing. As far as I'm aware jigs are intended to be joyful tunes, but here they've been transformed into the kind of schmaltzy performance which often graces turgid BBC Radio 4 programmes, such as Start the Week.
<![if !supportEmptyParas]> <![endif]>
Then, lastly, there are the song arrangements which really do reach the real nadir. Imagine the Swingle Singers lilting and you'll get a grip of the true horror which infects Diddle-de-di!, right down to the horrendous schlock ending. Elsewhere, the trio's a capella harmonies seems like a cross between the Flying Pickets, Nóirín Ni Riain and the Dead Sea Surfers.
<![if !supportEmptyParas]> <![endif]>
There are occasions on The Half Gate where one senses some decent musicianship desperately trying to escape, but even, say, on the last track Siamsa, Siobhán's flute rendition of a set of hornpipes is marred by some diabolically inappropriate piano accompaniment.
<![if !supportEmptyParas]> <![endif]>
That said, there are some very enjoyable moments. The best of these can, unquestionably, be found on the title track which begins with a wonderfully dextrous guitar rendition of Jens Kommnick's own composition, The Ferris Wheel, before Siobhán's flute takes over for another jig, Old Man Dillon.
<![if !supportEmptyParas]> <![endif]>
Unfortunately, said moments are few and far between and, despite the excellent liner booklet, I'm sad to report that this is definitely an album to avoid.
<![if !supportEmptyParas]> <![endif]>
Geoff Wallis
<![if !supportEmptyParas]> <![endif]>
13th September, 2004
<![if !supportEmptyParas]> <![endif]>
---
<![if !supportEmptyParas]> <![endif]>
Click here for more information about Iontach.
<![if !supportEmptyParas]> <![endif]>
---