In Search of the Craic
Colin Irwin
Andre Deutsch; hardback; 2003; 256 pages
Recently, Ireland has offered fertile ground for comedic travel writing – think of McCarthy's Bar and Round Ireland with a Fridge, for example ­– and now comes In Search of the Craic. Written by one of the UK's foremost musical journalists, Colin Irwin, a champion of many an Irish band and musician, In Search of the Craic tries to follow in the footsteps of Pete McCarthy and Tony Hawks and, frankly, falls flat on its face in attempting to do so. <![if !vml]>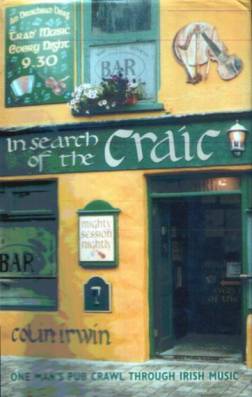 <![endif]>
<![if !supportEmptyParas]> <![endif]>
The book's title itself is nonsensical. Since craic is the Irish for "crack", that essential combination of good humour and conversation, fuelled by drink and music, it's a little like calling a French equivalent In Search of the Joie de Vivre. Presumably, however, the publishers thought a book entitled In Search of the Crack might be mistaken for a drug-related odyssey around inner-city housing estates.
<![if !supportEmptyParas]> <![endif]>
Next, the book has been appallingly edited and poorly researched. Typographical errors abound, including numerous misspellings of Irish words, places and personal names. The fada is noticeable by its almost complete absence and found amongst the many mistakes are blunders such as: "Sean O'Riada"; "Thomas à Beckett"; the transformation of the place name An Rinn to the personal name "Ann Rinn"; "Garnish Island" (it's Garinish); "Fleadh Ceoil" and "Fleadh Cheoil na h'Eireann"; "uillean"; "Cairan Bourke"; "Salt Hill" (instead of Salthill); "Inish Thiar" (instead of Inis Óirr"), "Ballysodare"; and, worst of all, considering his quest for Tommy Peoples (see below), the repeated confusion of the fiddler's birthplace of St Johnston with the Scottish football team St Johnstone.
<![if !supportEmptyParas]> <![endif]>
There are also numerous bloopers and some of the worst include a reference to the duo of "Séamus Begley and Michael Cooney"; the belief that the harper/composer O'Carolan was "a seventeenth century giant" (when most of his work was written in the succeeding century); the statement that the IRA hunger striker Bobby Sands died in Belfast (he died in the Maze prison near Lisburn); the claim that Pat Clancy's Tradition Records was "America's first Irish music label" which must be news to any descendants of the M & C New Republic Irish Record Company founded in 1921; and the thoroughly wrong suggestion that Christy Moore wrote a song called "Joxter Goes to Stuttgart" (it's actually "Joxer") about Ireland's World Cup victory over England (it was the 1988 European Championship). These are just a selection from the first few chapters!
<![if !supportEmptyParas]> <![endif]>
All this might be palatable, if the book was indeed humorous, but Irwin's tales meander too much, regurgitate old stories (such as his account of his attempts to interview the Jamaican reggae singer Peter Tosh which is, of course, very relevant to this book's subject!), and are peopled by an excess of Oirish stereotypes, sometimes veering towards the blatantly offensive, while there is nothing comic about his repeated demeaning reference to his accompanying partner as "Mrs Colin". At times too, Colin Irwin ventures into an extremely mundane travel-writing style, making recommendations such as "be warned, there's a big hike in accommodation prices when it's on" and "avoid Killarney at all costs – a plastic Paddy's paradise" while advising visitors to head for the equally tourist-swamped Ring of Kerry instead!
<![if !supportEmptyParas]> <![endif]>
Moreover, he contrives to avoid many of the best traditional music spots in Ireland while heading for the most tourist-ridden ones, ignoring Northern Ireland almost entirely, but the most damning criticism is that Irwin has little more than a loose grasp of both Ireland's musical history and the actual nature of its traditional music. He certainly seems to know very little about how CCÉ is organised, has modest sense of the nature of the music itself or stylistic differences between players and areas of the country, and certainly offers little in the way of explanation for newcomers. Sure, some of his accounts of festivals and the musicians he knows best (Christy Moore, for example) are well written and enjoyable, but there tends to be an over-emphasis on the big figures of the past to the exclusion of those more recently relevant.
<![if !supportEmptyParas]> <![endif]>
Ultimately, however, In Search of the Craic tests the reader's patience, not least in its repeated references to the song The Fields of Athenry and the seemingly endless quest to track down the fiddler Tommy Peoples (which one telephone call to the right person might have easily resolved).
<![if !supportEmptyParas]> <![endif]>
The book's introduction is entitled "Just What the World Needs: Another Bloody Book about Ireland". Exactly.
<![if !supportEmptyParas]> <![endif]>
---
A much abbreviated version of this review by Geoff Wallis originally appeared in Songlines – http://www.songlines.co.uk/.
---
<![if !supportEmptyParas]> <![endif]>