Irish Traditional Fiddle Music
Randy Miller and Jack Perron
Fiddlecase Books; softback; second edition – 2006; 176 pages
At a time when there was a dearth of Irish tune books, apart from O'Neill's Dance Music of Ireland and the somewhat fanciful Allen's Irish Fiddler, two Boston-based enthusiasts set about redressing the balance. Visiting bars, dance halls, competitions and concerts across the north-eastern USA, Randy Miller and Jack Perron tracked down Irish fiddlers and increased their own repertoires by assiduous listening to records sold by the renowned O'Byrne De Witt's record store. The fruits of their labours were three mimeographed publications forming volumes one to three of Irish Traditional Fiddle Music which were issued between 1973 and 1975, each containing tunes carefully notated from those purchased recordings featuring fiddlers such as Paddy Canny, Julia Clifford, Michael Coleman and Paddy Cronin. Eventually, in 1977, the three volumes were combined via the publication of one all-encompassing book and now, almost thirty years later comes its most welcome second edition. <![if !vml]>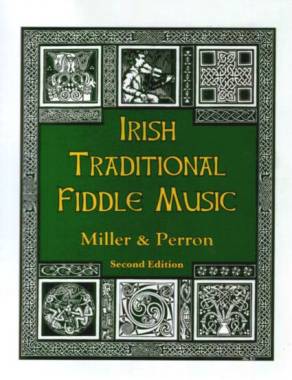 <![endif]>
<![if !supportEmptyParas]> <![endif]>
This new book represents one of the most considered publications of Irish traditional music ever to have been issued. Randy Miller has rigorously reviewed the contents of the original publications, checking that the tunes had been faithfully transcribed and assigning compositional credits to tunes now known to have been recently composed (even going so far as to contact the composers or their descendants for permission to reproduce them – if only others were so admirably scrupulous!). Additionally, some eighteen polkas have been added, so that the collection now comprises 253 tunes, divided into jigs, slip jigs and slides, reels, hornpipes, the aforementioned polkas, airs and waltzes and a catch-all miscellany of other forms.
<![if !supportEmptyParas]> <![endif]>
Furthermore, this new edition appears in a handy format, spirally-bound to prevent wear and tear as one struggles with, say, those wretched low A notes in The New Policeman, and features not only Randy's own wood engravings as decoration (based on the Book of Kells), but also includes a new section providing information on the sources of the tunes.
<![if !supportEmptyParas]> <![endif]>
Though many of the entries in that section simply refer to the recorded source of a particular tune, others reveal alternative settings, highlight particular preferences (such as Paddy Canny's liking for the C natural note in Trip to Athlone), indicate which tune might follow in a fiddler's repertoire, or simply provide anecdotal tales about a melody's provenance. The tunes themselves are presented with utmost clarity and a special section explains the use of ornamentation, offering suggestions for ways, for instance, of playing the rolls in Paddy Ryan's Dream.
<![if !supportEmptyParas]> <![endif]>
Sadly, few of the musicians who provided the tunes contained here are still alive, but this collection provides a welcome reminder of the times when Bobby Casey played the pubs of London or Andy McGann the dance halls of New York and, as so many of these tunes are still current in the traditional session scene, reinforces our understanding that the Irish music of the present remains extraordinarily indebted to the past.
<![if !supportEmptyParas]> <![endif]>
Apart from O'Neill, if there's one tune book you must include in your collection, this is it! Frankly, it's the best Irish tune collection issued for many a long year. Now let's have a look at that Seán McGuire setting of The Humours of Scarriff again ....
<![if !supportEmptyParas]> <![endif]>
Geoff Wallis
<![if !supportEmptyParas]> <![endif]>
7th April, 2006
<![if !supportEmptyParas]> <![endif]>
---
<![if !supportEmptyParas]> <![endif]>
The book costs $25 (plus p&p), is worth every cent and more, and is available directly from Fiddlecase Books – www.randymillerprints.com.
<![if !supportEmptyParas]> <![endif]>
---
<![if !supportEmptyParas]> <![endif]>