Irish Traditional Music
<![if !supportEmptyParas]> <![endif]>
Temple Records COMD2079; 73 minutes; 2000
<![if !supportEmptyParas]> <![endif]>
The Topic label released a substantial number of Irish traditional albums during the 1960s and 1970s and several of these owe their origins to Robin Morton, founder member of Boys of the Lough and nowadays owner of Midlothianís Temple Records. Among the singers and musicians Robin recorded on his travels around Ireland were Geordie Hanna and Sarah Anne OíNeill, Josie McDermott, Len Graham and Joe Holmes, and Vincent Griffin (all of whose albums appeared on Topic), as well as his classic collection of songs from John Maguire, Come Day, Go Day, God Send Sunday, which appeared on the Leader label. <![if !vml]>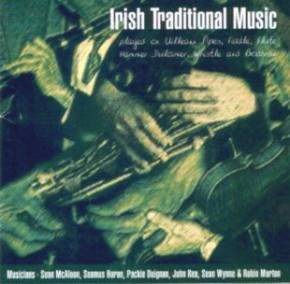 <![endif]>
<![if !supportEmptyParas]> <![endif]>
However, as Robin describes in his liner notes for Irish Traditional Music:
<![if !supportEmptyParas]> <![endif]>
Slowly, but surely, Topic let these albums slip from their lists and the masters have been on my shelves for years. Occasionally, the recording quality leaves something to be desired, but the music cuts through. I do take some pride, however, in the fact that the recordings were made live, on a two-track recorder, in hotel bedrooms and sitting rooms or kitchens of the musicians or their friends. The joy of these musicians and their music can, and should, be heard above the din of politics and the clang of modern life.
<![if !supportEmptyParas]> <![endif]>
With such an intention in mind Robin released this compilation, drawing upon the material from three albums: 1) Drops of Brandy by the Fermanagh uilleann piper SeŠn McAloon and the Antrim hammer dulcimer player John Rea; 2) Music from Co. Leitrim by Roscommon flute player Packie Duignan and Leitrim fiddler Sťamus Horan; and, 3) John Reaís solo album Traditional Music on the Hammer Dulcimer. The liner booklet includes all Robinís original sleevenotes from the Topic LPs, though, sadly, only Sťamus Horan is still alive today.
<![if !supportEmptyParas]> <![endif]>
Of course, one single CD cannot possible provide room for all the tracks from three vinyl albums, so purchaserís acquire a broad selection of twenty-five tracks, seven or eight taken from each of the original releases. This reviewerís personal preference leans towards the duet tracks, especially the unique sound of McAloonís pipes and Reaís dulcimer on Tim the Turncoat/The Quarrelsome Fiddler, a singular concatenation, and the mellifluous delights of the flute/fiddle combination on The Shores of Lough Gowna/The Rose and the Heather. Yet thereís plenty elsewhere to delight, including SeŠnís ever crisp piping, the harmonics of Johnís Roaring Mary, the roll and tumble of Packieís The Duke of Leinster (in cahoots with guest whistler SeŠn Wynne), and Sťamusís perky The Geese in the Bog.
<![if !supportEmptyParas]> <![endif]>
Unless some eccentric millionaire or lottery winner with large pockets suddenly endows Topic with a huge bag of moolah none of these three albums will reappear in their entirety as CD reissues. So, either look out for the originals on auction sites or try this tempter from Temple Ė you wonít regret it.
<![if !supportEmptyParas]> <![endif]>
Geoff Wallis
<![if !supportEmptyParas]> <![endif]>
2nd May, 2006
<![if !supportEmptyParas]> <![endif]>
---
<![if !supportEmptyParas]> <![endif]>
For more information visit www.templerecords.co.uk.
<![if !supportEmptyParas]> <![endif]>
---
<![if !supportEmptyParas]> <![endif]>
<![if !supportEmptyParas]> <![endif]>