Johnny Connolly
<![if !supportEmptyParas]> <![endif]>
An Mileoidean Scaoilte
<![if !supportEmptyParas]> <![endif]>
Cló Iar-Chonnachta CICD 157; 59 minutes; 2004
<![if !supportEmptyParas]> <![endif]>
Back in 1993, Johnny Connolly released An tOileán Aerach and unleashed the beauty of his melodeon playing onto a world whose boundaries stretch far beyond his native Connemara. An Mileoidean Scaoilte is his third album for Cló Iar-Chonnachta, though aficionados of his skills have endured a long wait since 1998's Drioball na Fáinleoige. His new album's title means 'the melodeon set free' or 'unlocked' and refers to the day some years ago when Johnny found such an instrument at home and was able to squeeze his first tune, thanks to a sister who managed to discover the key to its case. Figuratively, of course, there is another meaning, as Johnny gives free rein to his single-row, ten-button boxes (a Hohner in C and a Martyn in D) to offer a joyful collection of dance tunes (and one slow air, Amhrán na Trá Báine) in the company of the redoubtable Charlie Lennon on piano.
<![if !supportEmptyParas]> <![endif]>
<![if !vml]>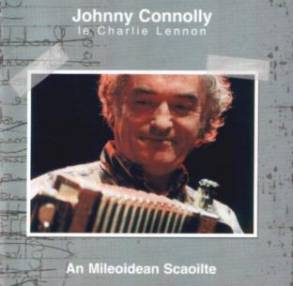 <![endif]>Johnny is renowned as being amongst the cream of dance accompanists (indeed he once recorded a four-cassette anthology of tunes, Na Damhsaí Céilí (as Johnny Connolly and Friends) specifically geared towards dance schools and clubs. An Mileoidean Scaoilte has been partly arranged for a similar purpose, since four of the tracks have been sequenced to suit the dancing of a Connemara set (and are tailed by a set of waltzes should the dancers retain their energy). Additionally, Seosamh Ó Neachtain joins Johnny to provide the sound of his sean-nós step-dancing on New Mown Meadows (the second tune in said set).
<![if !supportEmptyParas]> <![endif]>
Bright and breezy throughout, Johnny's playing is rhythmically rock solid. Listen to his versions of Dowd's No. 9 and Galway Rambler for verification and admire just how much this unassuming man's music constantly seems to bear a smile on its face. Charlie Lennon's accompaniment is ever considered and utterly understanding of his colleague's prowess, making An Mileoidean Scaoilte a delightful musical experience and one guaranteed to set listener's toes tapping.
<![if !supportEmptyParas]> <![endif]>
However, Cló Iar-Chonnachta's customary high production standards have been undermined by the inclusion of a terribly designed liner booklet. Though the Irish notes are in white font against a grey background, those in English are virtually unreadable thanks to the employment of pale yellow – a great pity!
<![if !supportEmptyParas]> <![endif]>
Geoff Wallis
<![if !supportEmptyParas]> <![endif]>
17th January, 2005
<![if !supportEmptyParas]> <![endif]>
---
<![if !supportEmptyParas]> <![endif]>
Click here to visit Cló Iar-Chonnachta's website.
<![if !supportEmptyParas]> <![endif]>
---
<![if !supportEmptyParas]> <![endif]>
<![if !supportEmptyParas]> <![endif]>