Joe Derrane, Frankie Gavin and Brian McGrath
<![if !supportEmptyParas]> <![endif]>
Ireland's Harvest
<![if !supportEmptyParas]> <![endif]>
Mapleshade 09232; 65 minutes; 2002
<![if !supportEmptyParas]> <![endif]>
Joe Derrane, Séamus Connolly and John McGann
<![if !supportEmptyParas]> <![endif]>
The Boston Edge
<![if !supportEmptyParas]> <![endif]>
Mapleshade 10332; 64 minutes; 2004
<![if !supportEmptyParas]> <![endif]>
Comparisons are odious, of course, but there's no escaping the similarities between Ireland's Harvest and that classic A Tribute to Michael Coleman LP made by Joe Burke, Andy McGann and Felix Dolan. There are notable differences, not least in the individual styles of the two Joes or between Gavin and McGann, but A Harvest Saved certainly has a similar purpose to its illustrious predecessor by paying tribute to the enduring influence of a past epoch. The album's title derives from Nicholas Carolan's biography of Francis O'Neill and its contents consist of a grateful acknowledgment for the tunes O'Neill collected and the way some of those were recorded during the 1920s and subsequent decades by Irish emigrants to the USA. 
<![if !supportEmptyParas]> <![endif]>
<![if !vml]>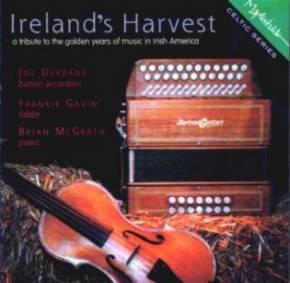 <![endif]>Joe's playing throughout is far more sprightly than one might ever expect from a septuagenarian and retains that floridity which has imbued his music ever since he first became known via his recordings for the Copley label in the 1940s. Pairing him with the equally extravagant fiddling of Frankie Gavin might strike some as a gamble, but somehow mutual respect has also engendered shared restraint and perhaps Brian McGrath's superb rhythmic control as piano accompanist is the guiding factor.
<![if !supportEmptyParas]> <![endif]>
The album's opening track sets the stage for the threesome's subsequent excursions, albeit in the form of a pre-curtain raising overture. It consists of three marches: Thomas Moore's The Minstrel Boy; God Save Ireland (which, unfortunately, always brings back to these ears memories of the Tottenham Hotspur song 'We're on the march with Ossie's army'); and, Doctor George Sigerson's The Mountains of Pomeroy. The trio's delivery is both dignified and suggestive and harks back to the days when Joe Derrane would apparently play marches at a slightly faster pace to lure dancers onto the floor before unleashing a far more frenetic set of polkas.
<![if !supportEmptyParas]> <![endif]>
The tunes subsequently paraded here, however, consist of the reels Andy McGann's and George White's Favourite, but the effect, should dancers be present, would ultimately be the same. The pace rarely subsides after that (indeed, Joe seems to be attempting to break all speed records on The Union Reel) and takes in a sparkling Gavin solo on the way until, at track 12, the listener reaches a slower jig, Off She Goes (or 'half a pound of twopenny rice').  However, track 16 does see a slow air. Inisheer, from Joe, but even then he cannot resist heading off into reel territory once the tune has finished.
<![if !supportEmptyParas]> <![endif]>
After that comes The Soldier's Song (reinforcing the idea introduced by the opening track that the album is in some way supposed to be taken as a theatrical performance), followed by the 'encore' of Derrane's own composition, Peter Feeney's Dream.
<![if !supportEmptyParas]> <![endif]>
Ireland's Harvest is a veritable music box of delights, but the trio has been somewhat let down by the album's packaging. Frankly, the liner cover has the words 'budget label release' written all over it and the very detailed notes by the album's producer, Paul McDonald, are riddled with typographical errors (for instance, Paddy Killoran never recorded a tune called 'Ah Surley').
<![if !supportEmptyParas]> <![endif]>
<![if !vml]>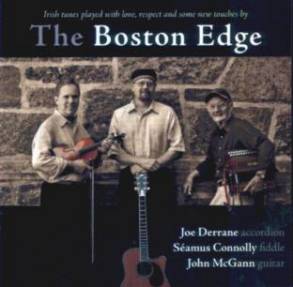 <![endif]>However, Mapleshade's analogue set-up and Paul's production do combine to provide a clarity which is sadly lacking in The Boston Edge, despite the album having been recorded at the same location and with the same producer at the controls. To be candid, this second album has a distinctly dampened sound. Derrane's accordion shines through the mist, but both Connolly's fiddle and McGann's guitar have all the sharpness of a dull razor. At times too, especially when playing tunes in a lower register, it is almost impossible to identify Connolly's presence at all.
<![if !supportEmptyParas]> <![endif]>
While Gavin and Derrane seemed to be driving each other ever onwards on Irish Harvest, this second album also has a subdued feel. Brian McGrath's exquisitely simple piano accompaniment has been replaced by the utterly dull and inappropriate power-chord driven guitar of John McGann for whom subtlety seems to equate to a flying mallet.
<![if !supportEmptyParas]> <![endif]>
Indeed, McGann's overall performance thoroughly detracts from Joe Derrane's effervescent playing and (when you can hear it) Séamus's too and makes listening to this album in its entirety a definite struggle. It is ironic that something entitled The Boston Edge should be so thoroughly blunted by such ham-fisted accompaniment and poor production values.
<![if !supportEmptyParas]> <![endif]>
Geoff Wallis
<![if !supportEmptyParas]> <![endif]>
2nd December, 2004
---
<![if !supportEmptyParas]> <![endif]>
Mapleshade's site is www.mapleshaderecords.com.
<![if !supportEmptyParas]> <![endif]>
---
<![if !supportEmptyParas]> <![endif]>
<![if !supportEmptyParas]> <![endif]>