The Master Pipers Series
<![if !supportEmptyParas]> <![endif]>
Volume 1 – Johnny Doran
<![if !supportEmptyParas]> <![endif]>
Na Píobairí Uilleann NPUCD 011; 48 minutes; 2003
<![if !supportEmptyParas]> <![endif]>
Volume 2 – Tommy Kearney
<![if !supportEmptyParas]> <![endif]>
Na Píobairí Uilleann NPUCD 012; 58 minutes; 2003
<![if !supportEmptyParas]> <![endif]>
<![if !supportEmptyParas]> <![endif]>
<![if !vml]>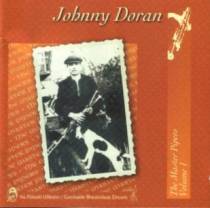 <![endif]>On seeing the uilleann piper Séamus Ennis for the first time the singer Martin Carthy is reported to have commented that the experience was akin to "watching a man wrestle an octopus". It's well worth keeping that aquatic analogy in mind when listening to these two fabulous examples of the piper's art with demonstrate complete understanding of this most complex of instruments.
<![if !supportEmptyParas]> <![endif]>
Johnny Doran (who died in 1950) was one of the last of the travelling pipers, earning his crust by touring Ireland to play at fairs and sporting events, entertaining through his astonishing expertise, characterised by a torrent of sound engendered by his open, legato style of playing the chanter and subtle supporting use of the regulators. Doran's only recordings were made by the Irish Folklore Commission in 1947 and subsequently issued on cassette as The Bunch of Keys. The original discs have now been remastered and are here accompanied by highly detailed, but ever cogent notes on Doran's playing and his music, alongside a brief biography. Reels such as Colonel Fraser flow from Johnny's pipes to devastating effect.
<![if !supportEmptyParas]> <![endif]>
<![if !vml]>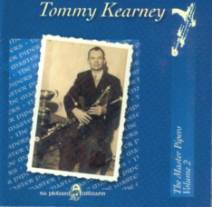 <![endif]>A similarly presented booklet accompanies the recordings of the still-active uilleann piper Tommy Kearney who recalls listening to Doran's playing on the streets of his native Portlaw, County Waterford. Also favouring an open, flowing style, though fond of very crisp staccato triplets. Tommy was recorded at home, first in 1965 and subsequently thirty-seven years later, and offers a host of examples of his wizardry. On some of the earlier tracks, such as the sparkling jig The Cook in the Kitchen, Kearney is accompanied by the renowned and sadly late London-based fiddler, Jimmy Power, whose son, Dick, compiled and edited the liner notes. Two renditions of The Flogging Reel, one from each recording session, demonstrate that Tommy has fully retained all his inventive powers over the intervening years.
<![if !supportEmptyParas]> <![endif]>
<![if !supportEmptyParas]> <![endif]>
---
This review by Geoff Wallis was originally written for Songlines magazine –  www.songlines.co.uk.
For More information about Na Píobairí Uilleann visit www.pipers.ie.
<![if !supportEmptyParas]> <![endif]>
---
<![if !supportEmptyParas]> <![endif]>
<![if !supportEmptyParas]> <![endif]>