Jim Mac Farland
<![if !supportEmptyParas]> <![endif]>
A Taste of Tradition: Mountain Streams
<![if !supportEmptyParas]> <![endif]>
Jo-Sem Recordings
 

JSCD01; 65 minutes; 2004

<![if !supportEmptyParas]> <![endif]>

<![if !supportEmptyParas]> <![endif]>

It is a bold man indeed who opts to begin his debut album with a rendition of The Mountain Streams Where the Moorcocks Crow, which will probably forever be associated with the singing of the Tunney family. Certainly, Tom Munnelly, the author of the liner booklet's song notes implicitly recognizes this, albeit in somewhat uncharacteristically florid fashion, by referring to the song's "highly melismatic rococo style"! However, Jim Mac Farland, a Derry man nowadays resident in County Meath, has the kind of tenor voice and the intuitive skill to turn the Tunney anthem, in all its extravagance, into a veritable tour de force. 

<![if !supportEmptyParas]> <![endif]>

<![if !vml]>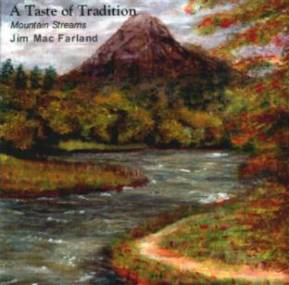 <![endif]>Jim himself notes in reference to Lough Erne Shore that he "spent many a good night singing" with Paddy Tunney, but his sources range from Sarah Jane Diver from Clonmany and Jimmy Houghton from Doagh Island, both on the Inishowen peninsula, via Len Graham, Seán Cannon and the Dublin singer Luke Cheevers, to the USA-based Dan Milner. They also include, in an odd moment of epiphany, the singer himself, as he notes in reference to Adieu Lovely Nancy:
<![if !supportEmptyParas]> <![endif]>
Last year, I was listening to old recordings of a singing session I had made in the early Seventies and heard this song. I liked it and decided to learn it, not realising that the singer on the recording was me. So here is a song I collected from myself.
<![if !supportEmptyParas]> <![endif]>
At more than an hour's duration, Mountain Streams is a long album, but one well worth acquiring and exposing to repeated plays. Jim ensures the latter by featuring a grand mix of material, although there is a leaning towards emigration songs (such as The Maid of Culmore and The Pride of Moville Town) and Napoleonic material (Laurel Hill and Napoleon's Lamentation). Additionally, his daughters Maria and Orla provide a fetching unison rendition of Going to Mass Last Sunday and his son Séamus joins Jim for Lough Erne Shore. However, Orla's solo version of the Burns song Ae Fond Kiss is utterly marred by the singer's adoption of a mid-Atlantic accent and County and Western style intonations which even Dolly Parton might find somewhat obtrusive.
<![if !supportEmptyParas]> <![endif]>
Equally, while the majority of the songs are delivered unaccompanied (and it's certainly on those that Jim's vocal elaborations are at their best), the only ones with any backing, Cork Harbour and a somewhat lacklustre rendition of Reynardine (a version of The Mountains of Pomeroy), strongly suggest that Jim is a far better singer when left to his own devices.
<![if !supportEmptyParas]> <![endif]>
Those devices come best into play on songs such as the well-known The Royal Blackbird and, particularly, the far less familiar Willie Ward. The latter song was penned by one Brian McGinnis from Dungiven as a paean to the local cobbler and employs the same tune as a song associated with Tom Lenihan, Paddy's Panacea or 'Stick to the Crayture' as it is sometimes better known. Additionally, the epic Laurel Hill and the tongue-twisting Little Jimmy Murphy are both worthy of repeated exploration.
<![if !supportEmptyParas]> <![endif]>
The album's liner includes all the song lyrics, Jim's tales of where he learnt them and Tom Munnelly's detailed accounts of their genesis.
---
<![if !supportEmptyParas]> <![endif]>
Reviewed by Geoff Wallis for Musical Traditions magazine – www.mustrad.org.uk.
<![if !supportEmptyParas]> <![endif]>
This CD is available directly from Jim at jimmacfarland@hotmail.com.
<![if !supportEmptyParas]> <![endif]>
---
<![if !supportEmptyParas]> <![endif]>
<![if !supportEmptyParas]> <![endif]>
<![if !supportEmptyParas]> <![endif]>