Josephine Keegan
Lifeswork: The Compositions of Josephine Keegan
Celtic Music CMCD079; 144 minutes; 2001
It's absolutely crucial to consider the title of this double album before purchasing it, since it contains vital information. This is not a retrospective of the fiddler and pianist's career, but a collection of <![if !vml]>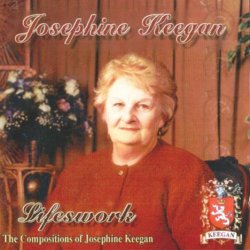 <![endif]>83 of her compositions plus her arrangements of two Carolan melodies. All of these tunes and several others appear in an associated book.
Furthermore, Josephine only takes the lead on fourteen of the album's 44 tracks, the remainder are played by a group from Camloch, Co. Armagh (to which Josephine adds piano accompaniment), another group from neighbouring Mullaghbawn (featuring Josephine on fiddle), a large fiddle group (including JK on fiddle and keyboard) and a collection of other musicians (for which again she sometimes plays piano accompaniment)
So, effectively, this is predominantly an album for those interested in Josephine's compositions, the overwhelming majority of which will be new to listeners' ears. Titles, as we know, are most often merely no more than identifiers in Irish music, but many here pay homage to South Armagh, her area of residence since moving from Dundee (where she was born in 1935) at the age of four. Some also take their names from places across the border while a significant number of others bear the titles of well-known pubs (including O'Hanlon's Bridge in Mullaghbawn, Kelly's Cellars in Belfast and Fiddlers Green in Portaferry). There's even a tune dedicated to her publisher which might intrigue those involved in the recent debate at the Mudcat Café about his activities!
Such a wealth of material hampers any meaningful criticism. Certainly, the large ensemble tracks focus attention on each tune's merits and many are well worthy of exploration. In contrast, some of the duo and solo tracks naturally feature embellishment by the players. However, the brief liner notes tell us little about Josephine's means of composition, focussing instead on a potted biography. Perhaps more is revealed in the associated book.
On the whole, this is a thoroughly enjoyable collection, though at the pricey end of the market (my copy cost €32), but well worth your investment.
---
This review by Geoff Wallis was originally written for Musical Traditions - www.mustrad.org.uk.
---
<![if !supportEmptyParas]> <![endif]>