Jean Sabot and Laors Dacquay
<![if !supportEmptyParas]> <![endif]>
Coop Breizh CD 915; 43 minutes; 2001
<![if !supportEmptyParas]> <![endif]>
<![if !vml]>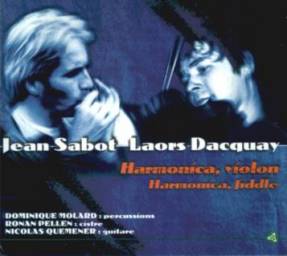 <![endif]>Jean Sabot is a Breton musician who plays a variety of harmonicas, seemingly both diatonic and chromatic, including some which have almost certainly had their tuning adapted, such as one in B minor 7th and another in E minor.
<![if !supportEmptyParas]> <![endif]>
He's joined on this album by the fiddler Laors Dacquay, with accompaniment provided by percussionist Dominique Molard, Ronan Pellen on cittern and the former Arcady guitarist Nicolas Quemener. Its fifteen tracks include a number of Irish tunes, including an intriguing combination of three jigs, sourced from John J. Kimmel, The Flanagan Brothers and Joe Derrane. Jean has also included a number of his own tunes and obviously has an eclectic ear as others originate from Cape Breton and the Tynesider James Hill as well as his native Brittany.
<![if !supportEmptyParas]> <![endif]>
Jean plays with a very rich tone and incorporates numerous twists and turns in his music and, like the great duo of Joe Ryan and the late Eddie Clarke, there are times when it is impossible to separate the harp from the fiddle. Hugely enjoyable throughout, this is an album well worth tracking down (and many thanks to Jean for sending me a copy).
<![if !supportEmptyParas]> <![endif]>
---
<![if !supportEmptyParas]> <![endif]>
For more information about Coop Breizh contact coopbreizh@wanadoo.fr.
<![if !supportEmptyParas]> <![endif]>
---
<![if !supportEmptyParas]> <![endif]>
<![if !supportEmptyParas]> <![endif]>