James Thurgood
<![if !supportEmptyParas]> <![endif]>
Handy Little Rig
<![if !supportEmptyParas]> <![endif]>
Own label – JT 001; 51 minutes; 2003
<![if !supportEmptyParas]> <![endif]>
There's something special about the harmonica and something very special indeed about this new album by James Thurgood. As aficionados of the instrument well know, there are relatively few recordings of the harmonica being used to play Irish music (see The Irish Harmonica Discography for more details). Indeed, the genre has relatively few mouth organ practitioners (and no recorded examples of women at all!) and the instrument itself has generally been viewed as having a low status.
<![if !supportEmptyParas]> <![endif]>
<![if !vml]>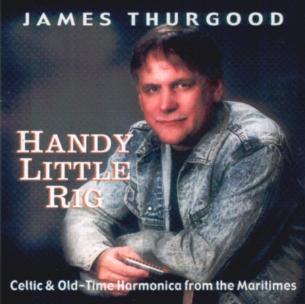 <![endif]>However, as The Murphys consummately proved, a point more recently reinforced by Paul Moran, Mick Kinsella and Brendan Power, when played well this relatively simple instrument has a strength and versatility of own. This is more than amply demonstrated on Handy Little Thing, the debut album by James Thurgood.
<![if !supportEmptyParas]> <![endif]>
James was born in Wallace, Nova Scotia, but grew up in Windsor, Ontario, the son of a harmonica-playing father from Cape Breton and a pianist mother from Prince Edward Island who adored playing fiddle tunes. Though he's toyed with other instruments and different genres, he finds himself returning repeatedly to the tunes he learnt in childhood and the ten-hole diatonic harmonica.
<![if !supportEmptyParas]> <![endif]>
Handy Little Rig neatly encapsulates those early influences, mixing tunes from predominantly Ireland, Scotland and Cape Breton and, equally, reveals an expansive range of tune sources, from musicians as various as J. Scott Skinner and Jerry Holland to Planxty and The Clancy Brothers & Tommy Makem. Relying solely on his ability to provide chordal counterpoint and some very able guitar accompaniment from guitarist Kevin Roach, Handy Little Rig is a veritable tour de force.
<![if !supportEmptyParas]> <![endif]>
James is one of those musicians who seems to become thoroughly absorbed in his work while keeping a clear vision of the wood despite all the trees. Listen to the opening track, an intoxicating blend of the Boys of Bluehill and Road to Boston reels, via the linking Sweeney's Polka, and you'll be captivated by the sheer eloquence of his playing. He know when to bend and when not to, when to stop a note and when to let it flow and these abilities are paramount when tackling a waltz like Blue Bonnets Over the Border or the Carolan tune Sí Beag, Sí Mhor. Hornpipes, such as Fisher's are delivered with verve and jigs, such as the clearly-destined-to-be-a-theme-tune I Lost My Love, with an incalculable joie d'esprit.
<![if !supportEmptyParas]> <![endif]>
There are strathspeys too, such as Scott Skinner's Laird o'Drumblair (a tune which this reviewer has heard under many different titles and a glorious rendition of King of the Fairies, where (and this is very much meant to be a compliment!), James twists his tongue around the notes in a manner reminiscent of the great Larry Adler and Max Geldray. However, it has to be mentioned that there is one track where the existence of the CD player's fast-forward button is much appreciated and that is the song My Gallant Brigantine where James thoroughly reinforces the impression that he should stick to his sublime talents on the harmonica. Ah, we all like to sing, and as the rest of the album's so blindingly excellent, let's forgive him.
<![if !supportEmptyParas]> <![endif]>
---
<![if !supportEmptyParas]> <![endif]>
This is an original review by Geoff Wallis.
<![if !supportEmptyParas]> <![endif]>
James can be contacted at this address –  jthurgood@yahoo.com.
<![if !supportEmptyParas]> <![endif]>
---
<![if !supportEmptyParas]> <![endif]>
<![if !supportEmptyParas]> <![endif]>
<![if !supportEmptyParas]> <![endif]>
<![if !supportEmptyParas]> <![endif]>