Live from the Katharine Cornell Theater
<![if !supportEmptyParas]> <![endif]>
KCT Concerts KCT1; 2 CDs; 144 minutes; 2004
<![if !supportEmptyParas]> <![endif]>
Flush on the heels of The Independence Suite comes another superb compilation from the USA in the shape of this double-CD compilation of live recordings from the Katharine Cornell Theater, based in Martha's Vineyard, Massachusetts. The recordings come from seven concerts hosted by the theatre during 2002 comprise not only a wonderful memento for those fortunate to attend the gigs, but also a reminder for the rest of the ebullient health of Ireland's traditional music.
<![if !supportEmptyParas]> <![endif]>
<![if !vml]>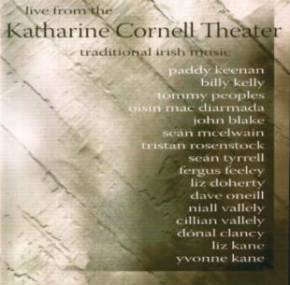 <![endif]>Those featured include Téada (with John Blake still on board), Liz and Yvonne Kane (with Mr. Blake providing guitar backing), Niall and Cillian Vallely (supported by Dónal Clancy), Seán Tyrrell (with Fergus Feely on mandola), Liz Doherty (plus Dave O'Neill on guitar and fiddle), Paddy Keenan, Tommy Peoples, and guitarist Billy Kelly (who backs Paddy and Tommy, as well as providing three songs).
<![if !supportEmptyParas]> <![endif]>
Though Tommy and Paddy both have their solo tracks, it is their three duets which may provoke most interest (and how long had it been since the pair had last played together?). Some time hence, perhaps, since both sets of reels are rather tentative affairs. Paddy certainly takes the lead on these (The Monaghan Twig, The Kilavill and The Boyne Hunt, plus another couple, Reavy's and Paddy Taylor's), though it is Tommy who assumes control midway through the second set.  The third duet consists of the set dance The Ace and Deuce of Piping, running into Dunphy's Hornpipe and is a far more confident affair, but otherwise there clearly is a certain mutual unfamiliarity at work, but one which definitely leaves the listener wondering what might ensue were the pair to play together more frequently.
<![if !supportEmptyParas]> <![endif]>
Such empathy is, of course, inherent in the Kane sisters' playing while Liz Doherty is also on typically perky form, especially on the Nancy Kerr and James Fagan tune The Blue Lamp. The Vallely brothers are unity incarnate throughout, but particularly on a set of reels kicked off the a slide, Molly from Longford while Seán Tyrrell is in fine form on his three songs. However, ultimately, it's Téada who steal the show, though in part that is due to the band having six tracks, twice as many as several other musicians who appear on the album.
<![if !supportEmptyParas]> <![endif]>
At almost two and a half hours' duration, this album also represents extraordinarily good value for money and all proceeds from its sales will be used to promote future concerts.
<![if !supportEmptyParas]> <![endif]>
Geoff Wallis
<![if !supportEmptyParas]> <![endif]>
17th January, 2005
<![if !supportEmptyParas]> <![endif]>
---
<![if !supportEmptyParas]> <![endif]>
The album is distributed by Ossian USA – www.ossianusa.com – or directly from the theatre.
<![if !supportEmptyParas]> <![endif]>
---
<![if !supportEmptyParas]> <![endif]>
<![if !supportEmptyParas]> <![endif]>