Kitty Hayes
A Touch of Clare: Traditional Irish Concertina Music
Clachán Music CMCD004; 51 mins; 2001
Eoin O'Neill's liner notes aptly summarize the spirit of yet another significant new release from the Ennis-based Clachán Music:
We recorded Kitty on a lovely summer's day in 2001 in the kitchen of her daughter Angela's house in Ennis. Anyone familiar with previous Clachán recordings will know that kitchens are important to us! Kitty and Dympna started off the session and Yvonne dropped by four or five hours later to finish it. Quentin sat away in the corner with the technology and the rest of us had tea and cake. There were no breaks, as Kitty loves the music and loves to play. Her whole body sways and shifts to the rhythm and her eyes twinkle with the simple joy of music and friendship.
At various stages over the day family members and friends dropped in to view the proceedings, silently danced half-sets, drank more tea, and thoroughly enjoyed the occasion. At the start of track 10 you can her Kitty's baby grandson, Joseph, gurgling encouragement...
So, let this be a lesson to the multinationals. Forget about studios crammed with the latest in sound technology. Just set yourselves up in a kitchen with plenty of tea and cake and a gurgling infant and away you go!
Kitty Hayes is resolute in refusing to reveal her age and there's no reason why readers of this review should be privy to such information. Let's just use that old chestnut that she is "steeped in the musical tradition" and leave you guessing. However, anyone familiar with the Clare concertina tradition will need only the briefest glimmer of a listen to know that Kitty plays with the relaxed ease of one who knows how to enjoy her music. <![if !vml]>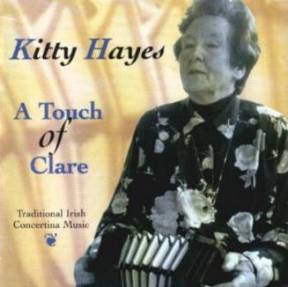 <![endif]>
Born Kitty Smith, she hails from Faha, not far from Lahinch, in West Clare. Just a few miles down the coast is Miltown Malbay and her father, Peter, a fine concertina player himself, would play there (and elsewhere in the county) with Willie Clancy's father Gillie. Peter purchased Kitty's first concertina for her and, subsequently, she played at house dances, at one of which she met Josie Hayes, her future husband, who played whistle and flute with the Laichtín Naofa Céilí Band. Music took a back seat during their life together as she first reared seven children and then nursed both her own mother and, later, her husband who had suffered a stroke and died in 1992.
More heartbreak arrived in 1995 with the news that her son, Joe, had been diagnosed with cancer. Yet it was this event which actually led to her return to music. Joe and the well-known music teacher and fiddler, Brendan Mulkere, had established a session in Joe's local in London. On one of her visits to her son, she was cajoled into letting him buy her a concertina and, returning to Clare, began to play regularly once more.
A Touch of Clare is dedicated to the late Joe Hayes and is quite simply a sumptuous recording. Just listen to The Reel of Rio/Maud Millar's and hear a musician totally at one with her instrument. These two reels, and many of the other tracks, are played at a listening pace, not for dancing, and exemplify a musician just playing for the sheer joy of it all. The rhythm accelerates when other musicians join in, such as fellow concertina player Dympna Sullivan or the fiddler, Yvonne Kane, now known to many through her work with Sharon Shannon, but the abiding impression remains one of a player at ease with herself and the world.
After the gorgeous Joe Ryan and Gerdie Commane album, again John O'Connor and Eoin O'Neill are to be congratulated for their efforts in ensuring that the music of Clare's past retains a vital presence in the county's musical future.
---
This review by Geoff Wallis was originally written for Musical Traditions - www.mustrad.org.uk.
A Touch of Clare can be purchased directly from Custy's Music Store in Ennis - www.custysmusic.com.
---
<![if !supportEmptyParas]> <![endif]>