Kevin Keegan
<![if !supportEmptyParas]> <![endif]>
The Music of Kevin Keegan
<![if !supportEmptyParas]> <![endif]>
Cló Iar-Chonnachta CICD 156; 47 minutes; 2004
<![if !supportEmptyParas]> <![endif]>
<![if !supportEmptyParas]> <![endif]>
<![if !vml]>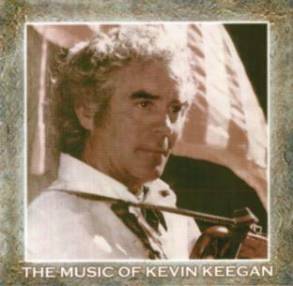 <![endif]>Thankfully, the Kevin Keegan who is the subject of this wonderful archive recording is the County Galway-born B/C button accordionist and not the erstwhile bubble-permed Liverpool FC number 7 (who nowadays manages Manchester City – well, he did at the time of this review's first appearance. Ed.). Kevin first made his name in the early 1950s as the accordionist with the Aughrim Slopes Céilí Band, but probably was best known in Ireland for the recordings he made with fiddler Paddy Fahey for Ciarán Mac Mathúna's radio programme, A Job of Journeywork. The Aughrim Slopes band toured the USA in 1956 and Kevin decided to remain in the country, fixing on Chicago as a base where he teamed up with old friends and musical colleagues Joe and Séamus Cooley. He moved to San Francisco in the 1970s, becoming well-known through frequent radio broadcasts and influencing many musicians both through these and his playing at sessions in the city.
<![if !supportEmptyParas]> <![endif]>
Sadly, Kevin died at a relatively young age in 1978 without, as far as I am aware, ever making a commercial recording bearing his own name. For some time tapes of privately made recordings have been circulating in the USA, but now Joe Burke, with the assistance of Kevin's family and friends, has put a stop to that by compiling this remarkable collection for Cló Iar-Chonnachta.
<![if !supportEmptyParas]> <![endif]>
As Joe notes in the liner booklet, as these recordings were laid down, for the most part, using home cassette or reel-to-reel players, the sound quality is not especially high, but he and Charlie Lennon have very much made the best of what they had and also included some very rare spoken-word pieces. These include an announcer for Radio KPFA in Berkeley, an introduction from Joe Cooley and a somewhat strange commentary listed as being made by Richard Lundy and Ellen Patterson when it is very much apparent that, whoever Ellen is, the second speaker is very much a man with a strong Teesside accent!
<![if !supportEmptyParas]> <![endif]>
There are also a couple of songs too, including Kevin's favourite, the somewhat maudlin The Little Thatched Cabin (which dates from 1962 and features the late Aggie Whyte on fiddle), and a recording of Adeste Fideles, made on Christmas Eve, 1954. However, it is Keegan's remarkably fluid accordion work which dominates this album and, perhaps, there is no better evidence of his skills than a vibrant rendition of The Rambles of Kitty which almost sounds as if it might have come from the famous Joe Cooley session recorded by Tony MacMahon.
<![if !supportEmptyParas]> <![endif]>
Throughout these recordings, and bearing in mind that some of the accompanists do not meet his own standards, there's an essential brio evident in Kevin's playing and a perfect sense of rhythm. Couple this with the sheer fun of his music and a resolute belief in letting the tune do the talking and you have an almost perfect release.
<![if !supportEmptyParas]> <![endif]>
Great stuff and thanks, Joe!
<![if !supportEmptyParas]> <![endif]>
---
Click here for more information about Cló Iar-Chonnachta's releases.
---