Lámh ar Lámh (Many Hands)
Friends of Mater Misericoridiae Hospital for Cancer Research; MIMHO1; 110 minutes; 2000
Far too many traditional music compilation albums have been released in the last few years and the racks of Irish record stores have probably suffered more than most. The reason, in part, is that certain record labels have recycled their back catalogues so repeatedly that it is a marvel that there's any sound left on the master tape while there is also, of course, a plethora of albums of Irish 'mood music'. In front of me at the moment is the list of albums available by mail order from Claddagh Records and a quick totting up produces the staggering total of just over three hundred CDs which fall into the 'Various Artists' category. By the way, despite its own extensive back catalogue, Claddagh itself deserves much commendation for avoiding the compilation trap, since only the forty year label retrospective, Claddagh's Choice, draws upon existing material and the company has steadfastly refused to allow its material to appear on other labels.
In general terms, certain types of compilation are exempt from this criticism. For instance, there is no question that the tradition has benefited from some of the excellent regional collections (in particular The Fiddle Music of Donegal series and the albums produced by Sligo's Coleman Heritage Centre). Equally, many of the archive compilations of remastered 78s are valuable, though some of these are now recycling material which has already been issued elsewhere.
<![if !vml]>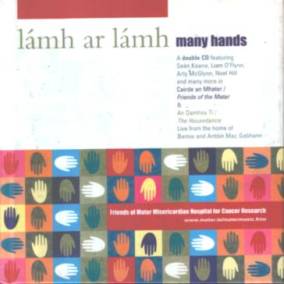 <![endif]>Contrastingly, the third category consists of new songs or instrumentals recorded for a particular album or, perhaps, it would be more precise to write 'reason'. Some of these focus on a single instrument (such as various collections of uilleann piping), while others have evolved from a pub's own sessions. Increasingly, however, musicians and producers have become aware that a CD is an ideal means of raising money for a cause. Recent examples include Live in the Kitchen (recorded to support the renovation of the fire-damaged Crosskeys Inn, near Portglenone), Behind the Mist (produced by P.J. Curtis for the Connemara Environmental Education Centre following his successful coordination of the Burren Action Group's Sound of Stone album) and Ceol na mBan (in support of Clare Haven Services which assists abused women).
Undoubtedly, the glossiest production in this line is Lámh ar Lámh coordinated by the Cavan-born fiddler, Antóin Mac Gabhann, for the Friends of Mater Misericordiae Hospital for Cancer Research (and available from its website at www.mater.ie/matermusic.htm). In part, this double album package is reminiscent of the Ellipsis Arts label's Celtic Mouth Music since it shares the latter's similarity to a small hardback book and, similarly, there is a wealth of detail inside about the contributing musicians and the hospital itself. Unfortunately, however, some of this is a little difficult to read thanks to the use of correspondingly shaded background and font colours, but do not let this deter you, for, in part, Lámh ar Lámh is one of the most innovative compilations to have emerged during the last decade.
Though bound by heritage, these two CDs are separate entities. Entitled Friends of the Mater, the first consists entirely of new studio recordings and begins by uniting fiddler Seán Keane, piper Liam O'Flynn and guitarist Arty McGlynn (for the first time on record since 1992's The Fire Aflame) on an effervescent set of reels, followed by a sprightly polka, jig and reel from the fiddles of John Carty and Anne McGowan and the sadly never previously recorded Roscommon flute player Patsy Hanley. This high musical standard is subsequently maintained by the piper Pádraic Mac Mathúna (both solo and in duet with the fiddler Dermie Diamond - a major influence on Belfast's music for many years), Noel Hill's concertina (accompanied by the rather too ethereal keyboards of Brian McGrath) and an unlikely pairing in the form of banjo player Kieran Hanrahan (with brother Mike on guitar) and the accordionist Jimmy McGreevy (who used to be a member of the James Last Orchestra!).
Youth is present in the shape of The Naomh Pádraig Céilí Band from Meath and members of Ashbourne CCÉ while some of Antóin Mac Gabhann's younger pupils form the massed ranks of the more than thirty-strong Many Strings. There's also place for two family groupings: the Meath-based Muintir Uí Raghallaigh; and Antóin leads his own family on a set of barndances. Most of the better known musicians appear on two tracks each and thankfully there's room for a solo outing by Patsy Hanley who submitted the following self-profile for inclusion in the album's notes: 'No CDs, no albums. Never won a prize in the Long Puck Competition. Playing affected by many influences, including fiddles and pipers. At his best when tired, hungry and suffering from a hangover.'
If you have detected a Meath presence in the first CD, then it becomes even more tangible in the second which was recorded in the Ashbourne home of Bernie and Antóin Mac Gabhann. Called The House Dance, like a product from Ronseal, it does exactly what it says on the packet. House dances still take place in County Meath, albeit most often on an annual basis and this recording, while reflecting all the vivacious fun of a contemporary event, also evokes the spirit of this erstwhile focus of Irish social life through a mixture of music, song, the sound of dancing feet and, thankfully, the whoops and occasional comments of the non-participants. While much of this album consists of joyous ensemble playing, it's punctuated by a number of delightful excursions. Singer Deirdre Scanlan (who taught at the local CCÉ branch before joining Solas) provides an unaccompanied Black Waterside (solo that is apart from the audience joining in for each verse's "bonny Irish maid"). Lilting too appears in the person of Séamus Fay from Cavan and a duet from the flute of Tom O'Shaughnessy and the fiddle of his better known brother Paul (ex-Altan and now Beginish). Another pairing features the twin flutes of Catherine McEvoy (ex-Macalla) and her husband Tom McGorman.
Lastly, there is another reference to Ireland's social history in the presence of three singers from Connemara, two who were born there (Paddy Allen and Colm Ó Méalóid) and one whose parents originated from the region, the fifteen year old Nollaig Ní Laoire. Meath contains Ireland's least-known gaeltacht, Rath Cairn, which was constituted by the Irish government in the 1930s as a relocation scheme to assist those suffering from deprivation in Connemara. Their singing adds the icing to a confection baked in a county bang in the heart of Dublin's commuter and.
For those who have experienced a house dance and equally for those who never have or will do so, this is an opportunity not to be missed and all for a worthy cause too!
---
This review by Geoff Wallis originally appeared at the Musical Traditions website www.mustrad.org.uk.
Buy this album directly from the Mater Misericordiae Hospital - www.mater.ie/matermusic.htm.
---
<![if !supportEmptyParas]> <![endif]>