Lasairfhíona Ní Chonaola
<![if !supportEmptyParas]> <![endif]>
An Raicín Álainn
<![if !supportEmptyParas]> <![endif]>
Own label LNC001CD; 43 minutes; 2002
<![if !supportEmptyParas]> <![endif]>
Pádraigín Ní Uallacháin
<![if !supportEmptyParas]> <![endif]>
An Dealg Óir
<![if !supportEmptyParas]> <![endif]>
Gael-Linn CEFCD 183; 62 minutes; 2002
<![if !supportEmptyParas]> <![endif]>
<![if !supportEmptyParas]> <![endif]>
<![if !vml]>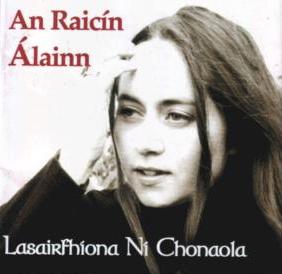 <![endif]>The Aran Islands off the coast of Galway have a long musical heritage which has rarely been captured on record (other than Sidney Robertson Cowell's recordings for the Ethnic Folkways Library, released way back in 1957). Now that dearth has been partly redressed by the release of An Raicín Álainn, an eclectic collection of songs from the young Lasairfhíona Ní Chonaola who hails from the island of Inishere. Lasairfhíona grew up in the island's sean-nós singing tradition and first came to wider recognition on 1998's Lights in the Dark, a much-lauded collection of Irish sacred songs produced by Hector Zazou.
<![if !supportEmptyParas]> <![endif]>
Her voice has an essentially ethereal quality, but one which is equally capable of delivering both the profundities of some of the traditional songs on her debut album, such as Banrion Loch Na Naomh, and a breadth of material which encompasses an almost Ursula Burns-like Oileán na Teiscinne  and the lilting song Binse Féin ag Iascaireach sung with her brother MacDara.
<![if !supportEmptyParas]> <![endif]>
Thoroughly engaging throughout, Lasairfhíona's sean-nós skills shine on the unaccompanied, witty Amhrán an Phúca and, one of the great Connacht love-songs, the gorgeous Úna Bhán. Máire Breatnach's production is sensitivity incarnate and there are guest appearances from the acclaimed whistler Mary Bergin and bodhrán wizard Johnny McDonagh on one of the most sumptuous albums of traditional singing to have emerged for some time.
<![if !supportEmptyParas]> <![endif]>
<![if !vml]>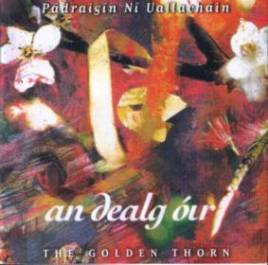 <![endif]>In geographical contrast, Pádraigín Ní Uallacháin is a singer thoroughly immersed in the song tradition of her native Southeast Ulster. Her fifth album, An Dealg Óir ('The Golden Thorn'), is an offshoot of her song-collecting project Songs of a Hidden Ulster, recently published by the Four Courts Press. Fourteen of these songs feature on An Dealg Óir, but, with the intention of attracting the attention of a wider audience, the album sees all but one (Séamus Mac Murfaidh) sung to accompaniment. Now therein lies the rub! For although Steve Cooney's production meets all his customary high standards while the quality of the backing musicians is impeccable (and includes Liam O'Flynn, Máire Breatnach, Helen Davies and Cooney himself) a lingering doubt remains over the match between the singer and the music. Pádraigín is a comprehensively wonderful singer, capable of expressing all the subtle range of emotions central to her material, but she sings slightly below concert pitch. Of course, this matters not, when she sings unaccompanied, but put her against a finely-tuned harp, low whistle or DADGAD guitar and the mismatch becomes sometimes gratingly apparent. Conversely, the effect diminishes on a song such as Amhrán na Croibhe where the combined, slightly discordant drone of Odhrán Ó Casaide's fiddle and Máire Breatnach's viola provides the perfect setting. Despite these misgivings, this is still an absolutely vital album.
<![if !supportEmptyParas]> <![endif]>
---
<![if !supportEmptyParas]> <![endif]>
These reviews by Geoff Wallis originally appeared in fRoots magazine – www.froots.mag.com.
<![if !supportEmptyParas]> <![endif]>
For more information on Lasairfhíona – www.aransinger.com - her album is distributed in Ireland by both Claddagh and Ossian.
<![if !supportEmptyParas]> <![endif]>
For more information about Gael-Linn releases – www.gaellinn.com.
<![if !supportEmptyParas]> <![endif]>
---
<![if !supportEmptyParas]> <![endif]>