Sherburn, Bartley & Scott's Last Night's Fun
<![if !supportEmptyParas]> <![endif]>
Tempered
<![if !supportEmptyParas]> <![endif]>
Rabble Rouser 003; 45 minutes; 2004
<![if !supportEmptyParas]> <![endif]>
One view, still strongly-held in parts of Ireland, is that you must have at least a smidgeon of the Auld Sod's blood in your veins to play Irish traditional music properly (and drinking umpteen pints of the black stuff doesn't count). Even if a musician's skills and knowledge of tunes, musical history and all the various tips and winks of the tradition enables him or her to participate ably in a session, there are still plenty who reckon that true understanding is a component of some yet undiscovered gene. "Sure," they'll say, "that Paddy and Bridget can play the tunes well for a couple of Japanese" or "***'s a grand fiddler, but she's from California, you know". To some extent, that begrudging attitude, whether it's rightly or wrongly held, has been reinforced by some truly dreadful quasi-ITM releases from Europe (names withheld to protect the guilty), so what are we to make of this extensively-titled trio based in England? <![if !vml]>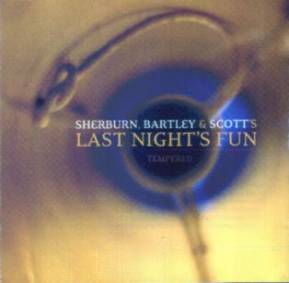 <![endif]>
<![if !supportEmptyParas]> <![endif]>
Last Night's Fun consists of the singer-guitarist Denny Bartley, uilleann piper Nick Scott and concertina player Chris Sherburn and they play, predominantly, a mixture of Irish traditional tunes and what they term "travelling songs", as opposed to songs favoured by travellers. The answer to the question posed above, on the evidence of Tempered, is less than not a lot. Firstly, Denny Bartley sings a variety of songs (Sammy's Bar, Thirty Foot Trailer, Tom Joad) as if suffering from the pre-operative (and pre-tranquillised) effects of a strangulated hernia. Secondly, the trio exhibit as much understanding of Ireland's music as an axolotl's ability to discuss the finer points of logical positivism. The Humours of Ballyloughlin is transformed into a tedious dirge, The Cliffs of Moher sounds like something partially learnt from a record, Brendan O'Regan's Autumn Child (played on the pipes) is reminiscent of a first-year piano pupil struggling with the concept of the arpeggio Then there is the closing Whiskey in the Jar which truly sounds as though Bartley's hernia has been operated upon without anaesthetic (or he's in the middle of some strange sexual encounter with a sheep).
<![if !supportEmptyParas]> <![endif]>
The Green Man described Last Night's Fun as "The best traditional Irish music band based in England" which really shows how little they know (and is insulting to The London Lasses & Pete Quinn, any version of The Luke Daniels Band or Míse). Tempered is truly awful, diabolical, appalling, inexcusable, atrocious rubbish and heaven help the numerous folk clubs and festivals that have booked this terrible trio. In other words, I'm with the Irish inheritance-mongers on this one.
<![if !supportEmptyParas]> <![endif]>
Geoff Wallis
<![if !supportEmptyParas]> <![endif]>
18th March, 2004
<![if !supportEmptyParas]> <![endif]>
---
<![if !supportEmptyParas]> <![endif]>
Should you really wish to learn more about Last Night's Fun, click here.
<![if !supportEmptyParas]> <![endif]>
---
<![if !supportEmptyParas]> <![endif]>
<![if !supportEmptyParas]> <![endif]>
<![if !supportEmptyParas]> <![endif]>
<![if !supportEmptyParas]> <![endif]>