Mary Mac Namara, Andrew Mac Namara
Open Hearth
Own label MAC 01; 31 min; 2004
Loading this CD produced a double-take when the player's digital reader indicated that its length was a mere thirty minutes and fifty-three seconds, making this almost certainly one of the shortest Irish traditional albums ever released. Add to that a four-page liner booklet which provides virtually no information about the album's tunes and one is almost left echoing Johnny Rotten's closing words on his last live appearance with The Sex Pistols. Yet pay heed to that word 'almost' because a detailed reading of those liner notes will explain everything, well almost.
<![if !supportEmptyParas]> <![endif]>
<![if !vml]>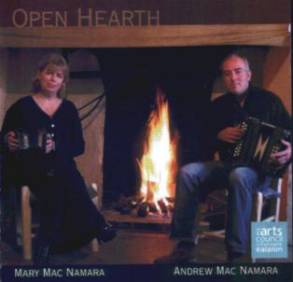 <![endif]>As teenagers in the 1970s Mary and Andrew, along with their parents, would often head off for a session in Feakle, picking up two musicians on the way, Bill O'Malley and Joe Bane. Bill was a fiddler and Joe played the whistle and Open Hearth compiles tunes which the young Mac Namaras heard at those sessions, aided by their father's tape recorder, and, as they put it, 'It is a collection of unusual tunes as well as their interpretations of others that are regarded as standards today.'
<![if !supportEmptyParas]> <![endif]>
The lack of source material is partly explained by another quotation, drawn from the experience of those trips to Feakle:
<![if !supportEmptyParas]> <![endif]>
A short conversation led to Joe slipping out the whistle from his breast pocket to calmly play a tune that had just come to him. More often than not, he was unable to say where he first heard the tune, who he heard it from or 'what the hell kind of a tune it was at all'.
<![if !supportEmptyParas]> <![endif]>
So, in other words, Open Hearth is the latest release from the Society for the Preservation of Rare Tunes and Unusual Settings which, of course, does not yet exist, but, if it did, would probably count Brian McNamara as its president and Garry Walsh as a committee member.
<![if !supportEmptyParas]> <![endif]>
This does not fully offer a convincing explanation for the album's brevity, but will account for the reason why three of its tunes, including the opening reel, share the simple title Joe Bane's and another, The Humours of Tullycrine carries a bracketed 'version'.
<![if !supportEmptyParas]> <![endif]>
Anyone familiar with Mary Mac Namara will be aware of the delicate subtleties which colour her playing of the concertina and while her brother's music may be less well-known his accordion work shares those characteristics. The upshot is that the pair's approach places the emphasis firmly on each tune's melody, providing an apt testament to their two mentors, though on occasion, such as Over the Moor to Maggie, rhythm is reinforced by unobtrusive foot-tapping. By the way, there are no accompanying instruments.
<![if !supportEmptyParas]> <![endif]>
As for the tunes themselves, well the word 'glorious' leaps from the cerebral cortex, particularly the schottische Bonnie Scotland and the twists and turns of Peacock's Feather, although these cloth ears did not detect much unusual about Harvest Home until these fumbling hands attempted to play it on a D whistle and found it to be rendered in C# (and, yes, the whistle is in tune and I had not been messing around with the CD player's pitch selector).
<![if !supportEmptyParas]> <![endif]>
All told, Open Hearth is a thoroughly engaging collection, as one deservedly expects from these two musicians. The problem is that the listener is simply left disappointedly wanting more.
<![if !supportEmptyParas]> <![endif]>
Geoff Wallis
<![if !supportEmptyParas]> <![endif]>
19th March, 2005
<![if !supportEmptyParas]> <![endif]>
---
Click here for more information about Mary Mac Namara.
---