Maigh Seola
<![if !supportEmptyParas]> <![endif]>
Beyond the Mearing Wall: Traditional Irish Songs from Galway and Mayo
<![if !supportEmptyParas]> <![endif]>
Own label SeoCD001; 43 minutes; 2004
<![if !supportEmptyParas]> <![endif]>
Amhráin Mhuighe Seola is a collection of songs from Galway and Mayo which were gathered together by a Mrs Costelloe (Bean Uí Choisdealbha) of Tuam and published by Dublin's Talbot Press in 1923. According to the pianist and composer Carl Hession the collection "was one of the first publications of Irish songs which included the text and the music as well as translations and notes". Hession's Aunt Maggie was one of Mrs Costelloe's contributors and the pianist himself included several songs from the collection, sung by Seosamh Ó Flatharta, on his album Ceol Inné Ceol Inniu.
<![if !supportEmptyParas]> <![endif]>
<![if !vml]>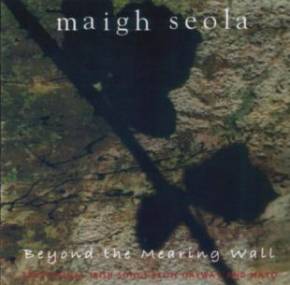 <![endif]>Now comes one of the most intriguing albums so far released this year, Maigh Seola's Beyond the Mearing Wall which is almost entirely devoted to material from Amhráin Mhuighe Seola. (By the way, a "mearing wall" is apparently "the boundary marking the divide between two neighbouring lands".) The band itself is a sextet consisting of singer Bríd Dooley, harper and singer Áine Sheridan, Caoimhín Ó Sé on flute, whistles and vocals, fiddler and viola player Patricia Kelly, cellist Liz Barry and, perhaps the best known, Jacqueline McCarthy on concertina, aided occasionally by the guitar of producer Garry Ó Briain.
<![if !supportEmptyParas]> <![endif]>
Together they create one of the most delightful sounds this reviewer has heard for some time. In part, the reason lies in the sheer quality of the singing on Beyond the Mearing Wall. Bríd Dooley possesses one of those wonderful voices capable of swooping and soaring like a lark while both Caoimhín and Áine are excellent vocalists too, as they amply demonstrate on the macaronic Slán agus Beannacht le Buaireamh an tSaoil. However, it's Bríd who takes most of the leads and, ultimately, steals the show, particularly on a lively rendition of An Raicín Álainn and a sumptuous version of Brídin Bhéasaigh
<![if !supportEmptyParas]> <![endif]>
These vocal triumphs are supported by utterly gorgeous arrangements while the band demonstrates its instrumental prowess on sets of tunes (obviously not from Amhráin Mhuighe Seola) such as Maigh Seola (composed by the uilleann piper Ger Fahy) and a set of jigs, The Shady Groves of Piedmont/The Humours of Ennistymon drawn from the Clare Concertinas album by Bernard O'Sullivan and Tommy McMahon – the last-named tune was a favourite of Jacqueline's late father, Tommy McCarthy. The combination of cello, harp and viola sometimes gives the album a Baroque flavour, as on the introduction to the love song Go dTagfaidh an Nollaig, and this simply adds to the atmosphere of a splendidly successful album.
<![if !supportEmptyParas]> <![endif]>
That success is also the product of clear as a mountain stream engineering and production by, respectively, Kenny Ralph and Garry Ó Briain, but also by the band's and Ó Briain's consummate arrangements. If there is a criticism, and it is only a slight one, it is that Bríd Dooley's rendition of the closing track, Moll Dubh an Ghleanna, is a little too florid and sails rather too close to Cathy Jordan territory, but that, after all, is only a personal view and Bríd certainly more than makes up for it elsewhere.
<![if !supportEmptyParas]> <![endif]>
Interestingly, the album has been sponsored by not only Galway Rural Development and Galway County Council, but by local businesses and individuals too. You'd be well-advised to support their excellent judgment.
<![if !supportEmptyParas]> <![endif]>
Geoff Wallis
<![if !supportEmptyParas]> <![endif]>
19th May, 2004
<![if !supportEmptyParas]> <![endif]>
---
<![if !supportEmptyParas]> <![endif]>
Click here for more information about Maigh Seola.
<![if !supportEmptyParas]> <![endif]>
---
<![if !supportEmptyParas]> <![endif]>