The Second Jimmy McHugh Memorial Concert
Glenfinn Records GF001CD; 73 mins; 2001
The fiddler, Jimmy McHugh, was born in 1930 in the town of Omagh, Co. Tyrone, but was raised in the distinctly different environment of the townland of Ballykerrigan, near Glenfinn, Co. Donegal. Glenfinn does not appear on many maps, nor does Jimmy feature in the relevant chapter of Caoimhín MacAoidh's extensive account of the Donegal fiddle tradition, Between the Jigs and the Reels, though other Glenfinn fiddlers are mentioned, including the influential Pádaí Bhartlaí McGlynn (sometimes known as Paddy Barclay). The reason is simple, for, in 1946, Jimmy and some of his family moved to Glasgow, a city to which so many of the county's people migrated that it is sometimes known as the 'capital' of Donegal. <![if !vml]>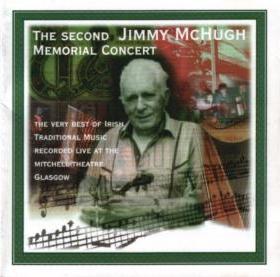 <![endif]>
In Glasgow, Jimmy became heavily involved in the traditional music scene, helping to form the Four Provinces Céilí Band in the late 1940s and remaining its bandleader until his death in 1999. He and his wife, Ann, formed the first branch of Comhaltas outside Ireland in 1957, a year in which Jimmy also won the All-Ireland Senior fiddle title at Dungarvan, also the first person living outside the country to do so. While back home he established Glasgow's first session, began composing his own tunes and was still participating in sessions until a week before his death.
Jimmy was never professionally recorded, but his playing of Pigeon on the Gate (often associated with another Donegal fiddler, Neillidh Boyle) is the closing track on this otherwise live recording at the Mitchell Theatre, Glasgow, of the second festival held in his memory in January, 2001. Although no specific details of the actual date of Jimmy's Pigeon on the Gate recording, Ann McHugh's informative account of his life suggests that this was a private 78 made between 1948 and 1950. Jimmy's version is utterly unlike Boyle's and much more akin stylistically to the Michael Coleman 1922 recording which is unsurprising, since he apparently learned tunes from Coleman's records. Nevertheless, this should not undermine his reputation as a formidable musician in his own right.
That many share this opinion is evinced by the sheer quality of the music played on this live album and by an audience which included well-known friends such as Danny Meehan Altan's Mairéad Ní Mhaonaigh and Dermot Byrne. On an album commemorating a fiddler, it is, perhaps, not coincidental that some of the undoubted highlights are provided by other exponents of the instrument. These include a remarkably soulful rendition of the air, Sliabh Gheal gCua, by Eileen O'Brien, daughter of the late and renowned Tipperary accordionist, Paddy (the O'Briens and McHughs have been long-time friends), and several outstanding appearances by the young East Donegal fiddler, Brid Harper, from Castlefinn. The most startling of these is another air Ta Me i Mo Chodladh, a tune which was actually played at the 1792 Belfast Harp Festival. Brid's version has all the extravagant virtuosity and pure finesse of Tommy Peoples before racing into two extraordinary reels, The Happy Man and Bubbling Wine. Coincidences run riot here, since these two tunes were composed by Paddy O'Brien and, of course, Tommy originates from St. Johnston, a mere ten miles away from Castlefinn.
Several of Jimmy McHugh's own compositions are featured on the album. Some are played by the Four Provinces Céilí Band whose members include Jimmy's sons Brendan (fiddle) and Martin (bodhrán) who offer a fine duo rendition of Marion Kelly's/Carey's Cottage. There's also another startling solo, Lament for Liam McCabe, by fiddler Tony McHugh (no relation).
The numerous other guests on the album include the Roscommon flute-player, Patsy Hanly, and Solas's singer, Deirdre Scanlan, both of whom (yet again, coincidentally) appeared on the superb Lamh ar Lamh, and another name to look out for is Nuala Hehir, a splendid young accordionist from Sligo.
The liner notes include brief biographies of all the participants, including photographs, an introduction from Alan O'Leary (whose Copperplate company is handling the album's distribution), a photograph of Jimmy dating from 1957 and Ann's aforementioned biography of her late husband. The booklet's quality is superb, using extremely legible fonts and avoiding the typos which blight so many independently released albums. This mirrors the album's exceptional sound quality and enhances at least this reviewer's feeling that it would really have been worth braving Glasgow in January to have attended this concert. A truly exceptional album!
---
This review by Geoff Wallis was originally written for Musical Traditions – www.mustrad.org.uk.
This CD is distributed in the UK by Copperplate.
---