Michael Gorman
The Sligo Champion
Topic TSCD525D; 150 minutes; 2001
Likely to warm previously undiscovered heart cockles, The Sligo Champion is unquestionably one of the most important releases of Irish traditional music to have appeared in the last decade and adds another significant chapter to the history of the North Connaught region's music. While much previous attention has been paid to Michael Coleman and James Morrison (though Paddy Killoran still awaits similiar coverage), only recently have archivists turned to these musicians' successors, most notably in the recordings of John Vesey, compiled on the double CD set, Sligo Fiddler which appeared in 1998. <![if !vml]>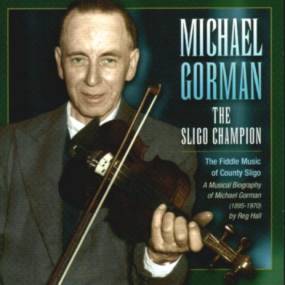 <![endif]>
In a sense, it is ironic that Vesey's album should appear before this collection of Gorman's music, since John was one of Michael's pupils, but this partly reflects the peculiarities of the latter's career. Arguably, and albeit for a brief period, Michael Gorman was one of traditional music's few superstars of the post-War decades, but his history has almost disappeared from the record books. Searching the literature provides few references and those who did make note of Michael Gorman, such as The Companion to Irish Music and The Rough Guide to Irish Music (for which I am culpable), subsume his own career within larger entries on his musical partner, Margaret Barry.
Furthermore, any contemporary assessment of Gorman as a musician has been hindered by the paucity of available recordings. The original vinyl albums released by labels such as Folkways, Emerald and Riverside never saw the light of day as compact discs. So, prior to the release of The Sligo Champion, and a few appearances on compilations, the only recorded evidence resided in Peter Kennedy's Folktrax cassettes and the 1994 Topic CD, Her Mantle So Green. The latter relied heavily upon Topic's original intention of releasing two 8" LPs, separately devoted to Margaret and Michael. This never happened and the sessions first appeared on a combined 10" and, subsequently, a 12" LP before emerging on the 1994 CD. Even then, despite the addition of two extra tracks (one solo and one with Willie Clancy), Michael appears on a mere six of the album's sixteen cuts.
The Sligo Champion makes no attempt to redress the balance regarding the unavailability of Michael Gorman's commercial recordings. Rather, its intentions are substantially more ambitious and draw upon the strengths of its compiler, Reg Hall, both the acknowledged expert on Irish music in London and a man with a by no means secondary interest in the music of Sligo. Gorman died in 1970, his mooted autobiography unwritten, but now Hall has taken up the cudgels on his late friend's behalf for The Sligo Champion breaks new ground in being, to quote the liner, 'A Musical Biography of Michael Gorman (1895-1970) by Reg Hall'.
This biography consists of a 54-page booklet covering Michael Gorman's family background, upbringing, musical development and repertory, and his life in Ireland both pre- and post-emigration to Britain. Monochrome illustrations show Gorman at various stages in his life, but the real colour is provided by the sheer detail of Hall's text. The introductory overview of his subject might seem cursory on first reading, not least regarding some of the more personal details of Gorman's history. These include his desertion of his wife and only child (also called Michael) over an inheritance, then setting up home in London with a widow from Tubbercurry (a liaison seen as scandalous back home in Sligo), the actual nature of his relationship with Margaret Barry (described here as 'musical and personal') or the circumstances surrounding his death ('the result of a domestic accident'). However, this section is but scene setting for the extraordinarily detailed account of his musical development which follows.
Reg writes of Gorman that 'His musical roots in Ireland can be identified back to the artisan musicians in the immediate aftermath of the famine, and he was an active musician from about 1906 until 1970.' To prove his point he heads deep into historical territory, tracing in fascinating detail the experiences which shaped Michael's development as both a fiddler and flute player, the origins of the local repertoire and Gorman's own compositional skills (The Mountain Road being his best-known tune). Reg's vision never loses sight of the context, incorporating coverage of national and local changes into his text, while being fully prepared to sharpen his critical pen for the likes of The Gaelic League and its attempts to enforce its own repertory.
As one might expect, however, the text springs fully into life in the account of Gorman's time in Britain. Reg has written so often about Irish music in London, but never with such specificity about one particular musical subject and the results are enthralling, spanning the entirety of Gorman's musical experiences nor being afraid to suggest that Michael was not a paragon as far as human interaction was concerned, e.g.:
Michael, naturally shy, was usually well-mannered, friendly and accommodating with fellow musicians, acknowledging their positive values and remembering their favourite tunes to play when they joined his company. He struck a posture of authority, which came not simply from his own view of his ability but from the fact that he was older than everyone else. However, if he sensed his authority as leader or teacher was being challenged or if he felt that lesser or younger musicians were inappropriately pushy, he could be awkward and cutting. As a consequence of speaking his mind, there was a turn-over of musicians in the Bedford, some lasting no more than one session or two, and Michael thus acquired the reputation of being cantankerous.
Tellingly, Reg explains that other such difficulties might have been related to opposing allegiances during the Civil War, including his refusal to play with Paddy Killoran, or the settling of old scores with musicians from his own area (from which he remained ostracised thanks to his earlier relationship with the widow from Tubbercurry).
In contrast, Reg recalls how much other musicians wanted to play with Gorman and learn from him, or how he play hackneyed pieces such as It's a Long Way to Tipperary, while refusing to play others (such as The High Level hornpipe) because he regarded them as tuneless. Similarly, the twin careers as pub musician and show business professional are contrasted, emphasizing the sheer complexity of Gorman's life.
The two compact discs-worth of recordings which accompany the written biography attempt to place these complexities within a musical context. The earliest dates from 1927, a remastering of a 78 recorded by Gorman's friend, the fiddler Tom Gannon, the son of his most significant musical influence, Jamesy Gannon. The remainder spans the period from 1951 to 1972 and almost entirely consists of tunes from the Sligo repertory. Michael appears in a variety of guises: as solo fiddler; in tandem with Margaret Barry; or with a variety of other musicians (including Tommy Maguire, Jimmy Power, Willie Clancy and Mick Flynn). Sadly, these predominantly private recordings do not include any samples of his flute playing and the gap is filled by some 1970 recordings of his nephew, also called Michael, who lived in both London and later Manchester. The other family member present is his elder brother, Martin, who had moved over to London in 1955, and is here captured singing and step dancing. <![if !vml]>
<![endif]>
Despite the wealth of this material (consisting of more than two and a half hours of music), there is a sense in which the biographical focus of the package has lost its edge. The recordings are ordered neither chronologically (as might be expected) nor with any apparent thematic concern. So, for instance, a 1951 recording of Michael and the flute-player Mick Flynn playing the jigs Tell Her I Am and The Merry Old Woman is followed by a 1964 tape of Michael playing The Rights of Man hornpipe solo which, in turn, is succeeded by Michael and Margaret Barry on the reel Put the Cake in the Dresser from 1958.
Additionally, with the exception of the song lyrics which are printed in full, notes on the tunes are rudimentary. Typically, these consist of the personnel, recording details and source, usually described as a particular person, 'Sligo Repertory' or a particular collection, such as O'Neill's Dance Music of Ireland. However, some tunes are not sourced at all, such as Happy to Meet and Sorry to Part (O'Neill 78) or The Broken Pledge (O'Neill 458). Unhelpfully, there is no explanation as to whether the sources identified are the exact fonts of Gorman's learning or simply the researcher's own understanding.
Nevertheless, these quibbles evaporate in the face of the barrage of superb music contained on these two discs. Even if Margaret Barry was no more than at best a rudimentary accompanist, the majesty of Gorman's playing driven by consummate bowing skills. Rhythm is ever the guiding factor, but Michael's range of ornamentation (sparkling triplets and a characteristic flick at the end of phrases) invested his music with both sparkle and grace. Nor, tellingly, even in his own compositions, did he ever see reason to tamper with the tradition he inherited and its core values. Thus his music amply demonstrates the central tenet of Reg Hall's thesis that he offered an enduring link to the musicians of the post-Famine era and will continue to do so thanks to this splendid package.
---
This review by Geoff Wallis originally appeared on the Musical Traditions site at www.mustrad.org.uk.
More details about the Topic label and its releases can be found at www.topicrecords.co.uk.
---
<![if !supportEmptyParas]> <![endif]>