Mirella Murray & Tóla Custy
Three Sunsets
Own label MMTC1; 48 minutes; 2002
Does the piano accordion have a place in Irish traditional music? Here's what Ciaran Carson had to say on the subject: <![if !vml]>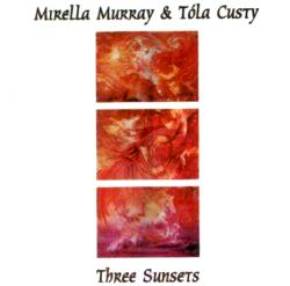 <![endif]>
The piano accordion in particular has many inherent disadvantages: it is heavy and unwieldy; it is often tuned in an inappropriate wide vibrato; its multiplicity of basses provide a constant temptation (often succumbed to) to accompany the melody with inappropriate chords; and, since it is a 'double action' instrument (the same note being sounded on the press and draw of the bellows) it is difficult to provide the articulation necessary for dance music. The speed of the music also means that it is sometimes technically difficult to get from one end of the keyboard to the other without 'playing between the cracks' - that is, accidentally hitting two keys at once, a common fault of many piano accordionists.
Irish Traditional Music (Appletree Press, 1986).
Now, of course, granted it's possible that Señor Carson, growing up in Northern Ireland, had especially bad experiences with the instrument, for the Six Counties has produced more than it's fair share of piano accordionists. However, it's possible that Ciaran might have revised his opinion in the intervening years, particularly if he's listened to Alan Kelly, Karen Tweed or Colette O'Leary of Bumblebees, none of whom could possibly be prone to any of his criticisms.
His view might be further revised by hearing this debut album by the pairing of Mirella Murray and Tóla Custy. The latter may be familiar to some as a member of the Clare musical family and through his fiddle playing with Calico and The Bowhouse Quintet, but Mirella, from Co. Galway, might be a new name to readers and it's she who is the exponent of the piano accordion. I quizzed her recently about her choice of instrument and it was just a childhood decision and one which she has never regretted and, on the strength of this album (and it has many), quite rightly so.
Although ostensibly a duo album, the pair is joined on most tracks by other musicians. The most frequent appearance comes from guitarist Ed Boyd while his mucker from Flook, bodhrán player John Joe Kelly, turns up on three tracks. Also present are Lúnasa's guitarist Donogh Hennessy, two well-known Clare musicians - bouzouki player Pat Marsh and bodhrán player John Moloney - while there's yet another guest spot for harper Laoise Kelly. The voice of Pauline Scanlon also appears on a couple of songs, Willie Nelson's Valentine (a fine song, but why do so many traditional albums quote from country and western? A question that deserves a treatise) and the traditional The False Knight on the Road.
But back to base, it's Mirella's accordion and Tóla's fiddle which dominate proceedings for most of the album. Mirella plays with a delicate touch and a seemingly complete absence of bass, while Tóla fiddles with familiar grace. There's a distinct Gallic tone to the album through a set of French-Canadian tunes, Vicki's World, another tune, Den, composed by French guitarist Soig Siberil and a gavotte while the international flavour is maintained by a Swedish tune, Salbohedsvalsen. This internationalism is not surprising considering Tóla's membership of the equally cosmopolitan Calico, but it does rather unbalance the album, leaving a mere six sets of Irish tunes and several of these are relatively recent compositions.
Nevertheless, it's hugely enjoyable overall and adds another little notch in the piano accordion's keyboard.        
---
<![if !supportEmptyParas]> <![endif]>
Reviewed by Geoff Wallis for Musical Traditions magazine – www.mustrad.org.uk.
<![if !supportEmptyParas]> <![endif]>
For more information about Mirella and Tola contact threesunsets@hotmail.com.
<![if !supportEmptyParas]> <![endif]>
---
<![if !supportEmptyParas]> <![endif]>
<![if !supportEmptyParas]> <![endif]>
<![if !supportEmptyParas]> <![endif]>