Mick McAuley
<![if !supportEmptyParas]> <![endif]>
An Ocean's Breadth
<![if !supportEmptyParas]> <![endif]>
Shanachie SH 78055; 41 minutes; 2003
<![if !supportEmptyParas]> <![endif]>
<![if !vml]>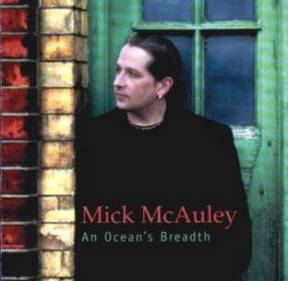 <![endif]>Mick McAuley's reputation as one of Ireland's best button accordionists was burgeoning long before he joined Solas some five years ago, but only the band's most ardent fans are probably aware that he's a more than capable singer too. This combination of abilities ensures that the Kilkenny man's debut album offers an inventive melange and provides welcome relief to those who find entire albums of accordion music too much to stomach. Moreover, as tunes such as the unpredictable Colito Fortusa and the more mainstream The Pumphouse Jig demonstrate, McAuley is an intriguing composer too.
<![if !supportEmptyParas]> <![endif]>
All of the album's five songs are traditional, sources ranging from the Child ballad collection (The House Carpenter) to Pentangle (Rain and Snow), offering plenty of scope for McAuley's mellow tenor. Various Solas members guest (and Seamus Egan produced the album), but Mick very much proves to be his own man on a sparkling confection well worth acquiring.
<![if !supportEmptyParas]> <![endif]>
---
<![if !supportEmptyParas]> <![endif]>
This review by Geoff Wallis originally appeared in Songlines  - www.songlines.co.uk.
<![if !supportEmptyParas]> <![endif]>
Click here for more information about Shanachie.
<![if !supportEmptyParas]> <![endif]>
---
<![if !supportEmptyParas]> <![endif]>
<![if !supportEmptyParas]> <![endif]>