Martin Mc Cormack
<![if !supportEmptyParas]> <![endif]>
Uilleann Pipes and Whistles
<![if !supportEmptyParas]> <![endif]>
Own label – LISNALEECD001; 47 minutes; 2005
<![if !supportEmptyParas]> <![endif]>
There are many people who believe, somewhat erroneously, that Ireland's thirty-two counties include several musical wastelands. When confronted with a map said heretics will stab their fingers in the direction of some of the Midlands counties, such as Westmeath or Laois or point a little further upwards on the page to probably the least well-known of the nine counties of Ulster, Monaghan. Asked for supporting evidence, they'll mutter imprecations about Monaghan being 'the Belgium of Irish traditional music' (thus displaying ignorance about said country's history and diversity), assert that the county's two most renowned cultural exports are Big Tom and The Mainliners and Ardal O'Hanlon (Father Dougal in Father Ted), and, for conclusive proof, point to the sessions page in Irish Music magazine which currently indicates that Monaghan is a 'session-free' county, i.e. it's the only one of Ireland's thirty-two which does not have any listings.
<![if !supportEmptyParas]> <![endif]>
<![if !vml]>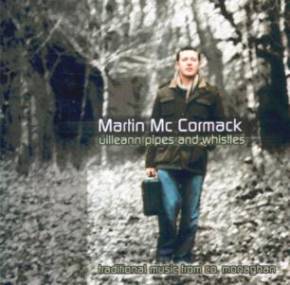 <![endif]>Green fools, as Paddy Kavanagh might have said (and our critics will surely not have heard of that great man), for Monaghan might not be at the forefront when it comes to a consideration of Ireland's musical heritage, but that doesn't mean that the county is culturally barren. Sure, it is one of Ireland's smallest, both geographically and population-wise, and hasn't exactly produced a plethora of well-known musicians (though harper Michael Rooney and Shantalla's Gerry Murray might dispute that suggestion), but it does have its own traditions and one of these is uilleann piping. The Glasgow-born piper Pat McNulty's grandfather and great-grandfather were both exponents of the instrument themselves and now a superb young piper and whistler, Martin Mc Cormack, from Derryraymond comes along to prove that, while the tradition might not be alive and kicking, it's certainly not in its death throes – far from it.
<![if !supportEmptyParas]> <![endif]>
That being said, Martin's debut album doesn't uncover a wealth of previously unheard material from the county (say on a parallel to Garry Walsh's 'uncovering' of Louth), but it more than represents a telling incursion by a musician whose name might currently be known to few, but will surely soon be recognised by many.
<![if !supportEmptyParas]> <![endif]>
The piping itself belies Martin's age. Listen, for instance, to the gorgeous and stately Carolan piece, Madam Maxwell, where the sense that the composer was sometimes too precise is utterly diminished by the way Martin's chanter navigates the tune's complexities (and Fionnuala Rooney's harp is contrapuntally subtlety incarnate). Then take a ride on the reel The Snow on the Hills and comprehend that you're listening to a musician who might be young in years, but carries a depth of understanding truly reminiscent of Liam O'Flynn's earliest recordings.
<![if !supportEmptyParas]> <![endif]>
As a whistler too, the man's a gem of a player, capturing the essence of innocence which permeates Mary Bergin's albums, but it's his understanding of what to do on the pipes and when to do it which remains ever captivating.
<![if !supportEmptyParas]> <![endif]>
His accompanists all either come from Monaghan or have roots in the county while the mix of tunes is pleasantly interrupted by another county native, Amelia Murphy, who provides a neat counterpoint via the song Roger the Miller.
<![if !supportEmptyParas]> <![endif]>
Reviewers' ears get jaded by the seemingly unending deluge of CDs which arrive through the letterbox, but it's a long while since this particular reviewer has heard anything so refreshing as Martin Mc Cormack's debut album (and the reviewer did pay his bar tag in Castleblayney, in case you're asking!). Track the album down, relish its many facets and note the name – Martin Mc Cormack.
<![if !supportEmptyParas]> <![endif]>
Geoff Wallis
<![if !supportEmptyParas]> <![endif]>
16h June, 2005
<![if !supportEmptyParas]> <![endif]>
---
<![if !supportEmptyParas]> <![endif]>
Martin's website is www.mccormackmusic.com.
<![if !supportEmptyParas]> <![endif]>
---
<![if !supportEmptyParas]> <![endif]>
<![if !supportEmptyParas]> <![endif]>