Manus McGuire
<![if !supportEmptyParas]> <![endif]>
Fiddlewings
<![if !supportEmptyParas]> <![endif]>
Own label FWCD01; 47 minutes; 2006
<![if !supportEmptyParas]> <![endif]>
Ever since the days when he and his fellow fiddle-playing brother Séamus toured together, first as a duo and then as Buttons and Bows with accordionist Jackie Daly, Manus McGuire has retained a fascination not just for the music of his native Sligo, but the folk traditions of Scotland and North America too. <![if !vml]>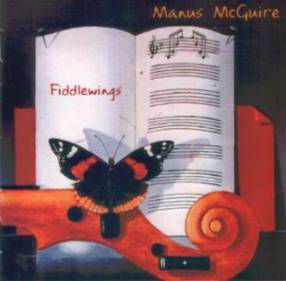 <![endif]>
<![if !supportEmptyParas]> <![endif]>
Like its predecessor from 2000, Saffron and Blue, this new album wears its eclecticism on its sleeve. So alongside familiar Irish tunes, such as The Pinch of Snuff and Jackson's Morning Brush, there's a wholesome smattering of melodies from north of Hadrian's Wall. Marie Fielding's Welcome to County Clare features the eponymous Scots fiddler while Laddie with the Pladdie sees Manus linking bows with the Nova Scotian fiddler Gillian Boucher on a Cape Breton strathspey offering more bounce than a Teletubbies convention.
<![if !supportEmptyParas]> <![endif]>
Though the fun element is dominant throughout much of Fiddlewings, Manus also exhibits his expansive skills as a player of airs, not least on the Nathaniel Gow tune Miss Graham of Inchbrakie and his own composition Fort Dunree (where he's joining by sibling Séamus). Yet it's impossible to ignore the joyful sway of The Friendly Visit, the solo virtuosity of Dancing Eyes (with tremendous piano accompaniment from Dennis Morrison) or the sheer 'nya' of Molly Bawn (not the somewhat maudlin song, but a Clare version of the similarly titled reel set in E minor).
<![if !supportEmptyParas]> <![endif]>
Overall, Fiddlewings supplies an abundance of ferociously good fiddle music and it's also refreshing to hear a guitar accompanist, in the shape of Duncan Findlay, not wandering down the standard DADGAD route but offering delightfully syncopated chordal backing.
---
<![if !supportEmptyParas]> <![endif]>
This  review by Geoff Wallis originally appeared in fRoots magazine (www.frootsmag.com).
<![if !supportEmptyParas]> <![endif]>
For more information about the Manus visit www.manusmcguire.com.
<![if !supportEmptyParas]> <![endif]>
---
<![if !supportEmptyParas]> <![endif]>
<![if !supportEmptyParas]> <![endif]>
<![if !supportEmptyParas]> <![endif]>
<![if !supportEmptyParas]> <![endif]>
<![if !supportEmptyParas]> <![endif]>