Mary McPartlan
<![if !supportEmptyParas]> <![endif]>
The Holland Handkerchief
<![if !supportEmptyParas]> <![endif]>
McP Productions MCPRCD 001; 51 minutes; 2003
<![if !supportEmptyParas]> <![endif]>
It is rare to discover an album whose influences are so obvious yet retains its individuality so compellingly, but such is the debut by Mary McPartlan, The Holland Handkerchief.  The inspiration of the singing of Sandy Denny and Dolores Keane can clearly be discerned, while these ears also detect elements of Anne Briggs and even Mary Coughlan, yet, ultimately, the strength of Mary's own musical personality shines through.
<![if !supportEmptyParas]> <![endif]>
<![if !vml]>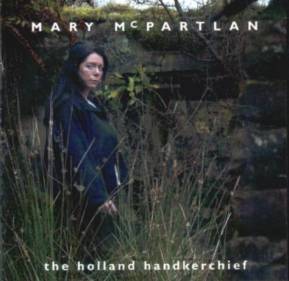 <![endif]>Unquestionably, this is the product of Mary's choice of material and the influence of her musical director and arranger, that stupendously talented multi-instrumentalist Shamie O'Dowd of Dervish (although I detect the masterly touch of the album's producer, P.J. Curtis, in several places). For instance, it is unusual to encounter an Irish album that includes so many songs associated with the musical heritage of the lands across the water, England and Scotland (The Holland Handkerchief, Lord Gregory, Lovely Sailor Boy, Peat Bog Soldiers). Equally, Shamie's arrangements are redolent at various times of Fairport Convention (The Holland Handkerchief and Johnny Lovely Johnny), MoR-period Dolores Keane (Rainy Night in Soho), De Dannan (Lovely Sailor Boy), the original Home Service version of Peat Bog Soldiers, Rumours­­-period Fleetwood Mac (the guitar introduction to The Tide Full In), though the cover of Thom Moore's Saw You Running is perhaps a little too close for comfort to the version Thom recorded with Janie Cribbs when both were members of Midnight Well.
<![if !supportEmptyParas]> <![endif]>
If this sounds damning, I would refer you to my opening sentence and then add these following points. Firstly, Mary's distinctive, welcoming voice is strong enough to press her own imprimatur on her material. Secondly, Shamie's arrangements still contain enough originality to render comparisons with other musicians or versions resoundingly irrelevant. Thirdly, the standard of musicianship is so much higher than might be found on so many other albums (as one might expect when the personnel includes Shamie himself, his colleagues Liam Kelly and Tom Morrow, and instrumentalists of the calibre of Máirtín O'Connor, Paddy Keenan, Cathal Hayden and Eddie Lynch, not forgetting singers Mary Staunton and Martina Goggin). Lastly, the quality of P.J. Curtis's production and Kenny Ralph's engineering is simply staggering in terms of its clarity.
<![if !supportEmptyParas]> <![endif]>
Then there are the places on the album where everything just falls into place. One of these is Tim Edwards' Ladybird, where the sheer expressive resonance of Mary's voice is highlighted by the eloquence of Eddie Lynch's piano accompaniment. Another is Mary's version of the Tim O'Brien and Guy Clarke collaboration, John Riley, where Shamie proves he might have an alternative career as a blues harmonica player should he ever tire of Dervish and then proves he could sub as a slide guitar player on an atmospheric rendition of Aura Lee (I spot the influence of Mr Curtis here). Then there's a stunning largely unaccompanied vocal performance of Slieve Gallion Braes (Mary Staunton and Martina Goggin join in part way through).
<![if !supportEmptyParas]> <![endif]>
Finally, to add some biographical detail, Mary originates from County Leitrim, though there's a strong Tyrone element in her background (her mother came from Plumbridge on the edge of the Sperrins). Mary has long been based in Galway city, where she co-founded the Riabhóg Singers Club, and was also instrumental in developing the TG4 traditional music awards. She's a great singer and The Holland Handkerchief is well deserving of your attention.
<![if !supportEmptyParas]> <![endif]>
Geoff Wallis
<![if !supportEmptyParas]> <![endif]>
17th March, 2004
---
<![if !supportEmptyParas]> <![endif]>
Click here to contact Mary.
<![if !supportEmptyParas]> <![endif]>
---
<![if !supportEmptyParas]> <![endif]>
<![if !supportEmptyParas]> <![endif]>
<![if !supportEmptyParas]> <![endif]>
<![if !supportEmptyParas]> <![endif]>