Mick Mulvey
<![if !supportEmptyParas]> <![endif]>
Within a Mile o' Jamestown
<![if !supportEmptyParas]> <![endif]>
Coolathuma 001; 65 minutes; 2003
<![if !supportEmptyParas]> <![endif]>
Are hidden tracks the worst artifice of the CD age? Well, unless you possess a copy of the Gerry Harrington and Nancy Conescu album, The Fiddle The Voice, where track thirteen is actually listed as "Blank" (and consists of four seconds of silence), the answer is unquestionably affirmative. By the by, said paean to serenity, according to the liner notes is traditional and arranged by Gerry Harrington. Perhaps John Cage should be informed. <![if !vml]>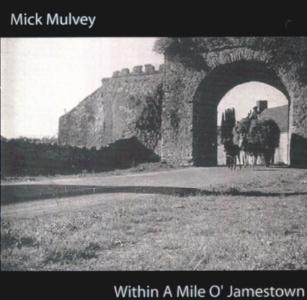 <![endif]>
<![if !supportEmptyParas]> <![endif]>
However, to return to those latent terrors that lurk in the dim recesses of the CD format, one justifiable criticism is that their presence suggests that an album is longer than it actually is. Take Within a Mile o' Jamestown, for instance, and you will discover an album whose apparent duration is some sixty-five minutes. Then again, its unlisted fifteenth track does not commence until the CD player's digital clock has counted almost ten minutes. What next appears is an insufferable recording, apparently taped in a pub whose denizens can be heard conversing in the background and occasionally whooping in the foreground. This might be bearable if the music itself possessed any merit (and would support the case of those who argue that hidden tracks are really a bonus for the purchaser), but the playing is utterly awful.
<![if !supportEmptyParas]> <![endif]>
This coda diminishes the impact of an otherwise pleasant "homemade" debut release by the flute-player Mick Mulvey, a man whose London accent belies his Connacht roots. Mick's main influences lie in his father's native Leitrim (hence the Jamestown of the title) and the music of Sligo's Séamus Tansey and his childhood tutor Roger Sherlock.
<![if !supportEmptyParas]> <![endif]>
Having seen him in action several times, there's no doubting the mellow timbre of his playing nor his undoubted expertise, but, like many other independently-produced recordings, Within a Mile o' Jamestown fails to offer full service to its central figure.
<![if !supportEmptyParas]> <![endif]>
Firstly, for instance, the listener is immediately aware of a very prominent background hiss and it does take a few seconds to register that this is actually the sound of Mick's breathing. The album was recorded at London's Guildhall School of Music which, presumably, must have more than adequate studio facilities, including the ability to diminish unwanted background noise.
<![if !supportEmptyParas]> <![endif]>
Next, in places the accompaniment is not always appropriate (as on The Leitrim Thrush and Roger Sherlock's and, especially, the attempt at Dennis Cahill-style guitar on Col. Rodgers' Favourite) and, at times sounds appallingly tinny. At others, as on Willie Coleman's, Simon Wroe's guitar seems to be slightly out-of-tune. Thirdly, there are times when Mick's sense of rhythm does not match that of his accompanist – on Bridie Morley, for instance, they seem to be heading in different directions.
<![if !supportEmptyParas]> <![endif]>
Lastly, there are other occasions where the participants seem to be under-rehearsed. The most obvious example is The Rakes of Clonmel, where Mick is joined by fiddler Brian Rooney and pianist Reg Hall. Now Reg is usually unreservedly dependable, but even he seems to have some difficulty following the lead given by the two others, especially since they appear to be offering him differing possibilities. In contrast, The Coachman's Whip, where Mick is joined by The London Lasses' Karen Ryan on fiddle and Pete Quinn on piano, the playing works precisely because all three have played the tune together on numerous occasions (and Pete's keyboard offers a typically "bassy" counterpoint).
<![if !supportEmptyParas]> <![endif]>
This is not to say, by any means, that Within a Mile o' Jamestown is a bad album. Indeed, when all elements come together, as on Tommy McGuire's #1 or a splendid version of The Belltable, it is thoroughly enjoyable (again down in part to the interplay between Mulvey and Quinn) and Mick's inventive solo rendition of the title track is probably the album's high water mark.
<![if !supportEmptyParas]> <![endif]>
However, ultimately it is simply disappointing that such an excellent musician hasn't been able to demonstrate his talents as fully as they deserve (and the less said about that hidden track the better!).
<![if !supportEmptyParas]> <![endif]>
The accompanying liner includes a brief musical biography from Reg Hall, informative notes on Mick's sources for the tunes and photographs of the participants.
<![if !supportEmptyParas]> <![endif]>
---
<![if !supportEmptyParas]> <![endif]>
This review was written by Geoff Wallis for Musical Traditions  – www.mustrad.org.uk.
<![if !supportEmptyParas]> <![endif]>
Mick's website is www.mickmulvey.com.
<![if !supportEmptyParas]> <![endif]>
---
<![if !supportEmptyParas]> <![endif]>
<![if !supportEmptyParas]> <![endif]>