Mick O'Brien & Caoimhín Ó Raghallaigh -
Kitty Lie Over
ACM Records ACM CD 102; 54 minutes; 2003
<![if !supportEmptyParas]> <![endif]>
Michael Hynes And Denis Liddy -
Waifs and Strays
Tíg na Coille TNC001; 46 minutes; 2003
<![if !supportEmptyParas]> <![endif]>
Barefield Céilí Band -
Between The Sets
Tíg na Coille TNC002; 36 minutes; 2003
<![if !supportEmptyParas]> <![endif]>
Méabh O'Hare & Conor Byrne -
Bavan
Own label MOHCBCD001; 41 minutes; 2003
<![if !supportEmptyParas]> <![endif]>
Donall Donnelly & Brian Hanlon -
Driven
Own label BHDD 4181; 49 minutes; 2003
<![if !supportEmptyParas]> <![endif]>
Mick Mulvey -
Within A Mile O' Jamestown
Coolathuma 001; 65 minutes; 2003
<![if !supportEmptyParas]> <![endif]>
Tommy O'Sullivan -
Legacy
Own label – no catalogue number; 40 minutes; 1993/2003
<![if !supportEmptyParas]> <![endif]>
---
<![if !supportEmptyParas]> <![endif]>
2003 might be remembered as Irish traditional music's year of the duo. True, there have been some great pairings in the past – Sligo's Peter Horan and Fred Flynn and Clare's Noel Hill and Tony Linnane spring immediately to mind – and more recent times have seen the princely duos of both Begley and Cooney and Hayes and Cahill.<![if !vml]>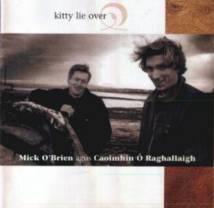 <![endif]>
<![if !supportEmptyParas]> <![endif]>
One such combination destined to be regarded with similar affection consists of two Dubliners, the uilleann piper Mick O'Brien and the young fiddler Caoimhín Ó Raghallaigh. Mick has been active musically for the last couple of decades or so and might be known to some through his own solo album, May Morning Dew, and an earlier recording with the fiddler Paddy Glackin, The Flags of Dublin. However, apart from appearing on the Cló Iar-Chonnachta compilation Cumar, Caoimhín's only previous recording was his very limited-edition unaccompanied Turas go Tír na nÓg, an album paying homage to the great fiddlers of Sliabh Luachra, such as Pádraig O'Keeffe. There's something utterly unique and exhilarating about the sound of fiddle and pipes together and, on Kitty Lie Over, Mick and Caoimhín combine to produce emphatic, uplifting, sometimes breathtaking music. In so doing, they doff their caps to many a fine musician from the past, drawing inspiration from sources as varied as Séamus Ennis, the Clare fiddler Patrick Kelly, Willie Clancy and the Donegal fiddler Neillidh Boyle (a flabbergasting version of Biddy from Sligo). A sumptuous album in all respects, Kitty Lie Over has already come to be regarded as a masterpiece!
<![if !supportEmptyParas]> <![endif]>
Fortunate enough to catch Denis Liddy and Michael Hynes playing recently in Ennis, this reviewer was enthralled by the <![if !vml]>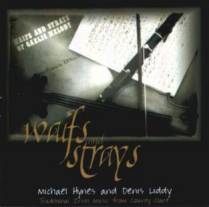 <![endif]>gently rolling music emanating from their respective fiddle and flute. Waifs and Strays is a more than estimable release, providing a captivating series of tunes reflecting both musicians' involvement in the music of their native County Clare. Backed only by Rob Sharer's almost inconspicuous guitar, the pair mount numerous peaks and rarely hit a trough. Their version of a set of the reels Tinker's Daughter, Anderson's and John Carty's is benchmark standard and, fittingly for two musicians who enjoy accompaniment, the album concludes with part of the Caledonian Set, complete with the sound of the set-dancers feet.
<![if !supportEmptyParas]> <![endif]>
The full Caledonian appears on the third album by the Barefield Céilí Band, Between the Sets, a band which originated when Dennis Liddy began teaching his pupils the whistle for a Christmas concert at Barefield National School in the <![if !vml]>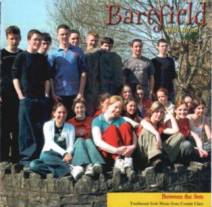 <![endif]>late 1990s and which has progressed so dramatically that it won the Senior All-Ireland title in 2002. All still in their mid-teens, their obvious enthusiasm has been thoroughly channelled into the overall feel of Between the Sets and the tunes possess an infectious ebb and flow. 
<![if !supportEmptyParas]> <![endif]>
It's back to the duos, however, and another fiddle-flute combo in the form of Meabh O'Hare (once of Providence) and Christy Moore's nephew, Conor Byrne. Bavan takes its name from the place where it was recorded, near Omeath on the Carlingford Peninsula in County Louth, and employs a bevy of accompanists (including Calico's Donncha Moynihan on guitar and North Cregg's pianist, Caoimhín Vallely). Overall, it's an intoxicating brew and there's a clear symbiosis operating here between Meabh and Conor, but there's also something slightly mannered about some of the arrangements, though Conor's own tune, Farewell to Drogheda is up with the best.
<![if !supportEmptyParas]> <![endif]>
<![if !vml]>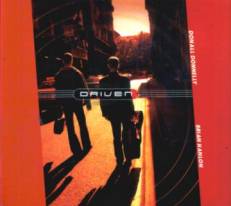 <![endif]>Fiddler Donnall Donnelly hails from near Pomeroy in County Tyrone, an area long associated with fine fiddlers, such as the late John Loughran and the very much alive Cathal Hayden. The handsomely-packaged Driven features tasteful guitar and bodhrán accompaniment from Brian Hanlon, but it's Donnall who steals the show. Inspired both by Hayden and the Donegal fiddler Stephen Campbell (especially on the set of tunes Hoody Bugs), Donnelly's fiddle packs both drive (as the album title suggests) and a gloriously plangent tone, matched by deft bowing and dextrous fingering. Driven certainly suggests that here's a young fiddler who'll become prominent in the limelight.
<![if !supportEmptyParas]> <![endif]>
In contrast, flute-player Mick Mulvey offers more relaxing fare. A London session stalwart, Mick draws on his familial roots to provide an engrossing collection of tunes on his debut release, focussing on his <![if !vml]>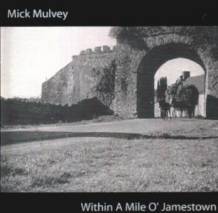 <![endif]>father's home county of Leitrim, but also deriving much from his metropolitan musical companions. Much of the playing here seems almost effortless, especially a lively rendition of the title track itself and a duet with The London Lasses' Karen Ryan on The Coachman's Whip. However, just occasionally he seems to lose the rhythm of the tune and potential purchasers should be aware that the album concludes with one of the most diabolical hidden tracks ever released, a live pub recording where flute and a somewhat out-of-tune guitar struggle to survive against the conversation of the intoxicated customers.
<![if !supportEmptyParas]> <![endif]>
<![if !vml]>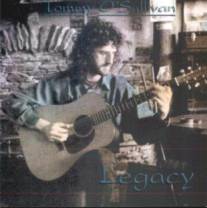 <![endif]>Lastly, erstwhile London sessioneer Tommy O'Sullivan has finally bowed to audience demand and reissued his 1993 solo cassette, Legacy, in digitally-remastered CD format. Well-regarded for his work with Sliabh Notes and uilleann piper Paddy Keenan, Tommy's guitar whirls through a splendid selection of jigs and reels, picking its way adroitly through numerous twists and turns to the accompaniment of Martin O'Hare's bodhrán on several tracks. There's several fine songs too, including Tommy's trademark The Maids of Culmore, but best of all is the closing set of polkas, The Lispole  and Jessica's where's he's joined by fellow guitarist Steve Cooney and fiddler Matt Cranitch for a rousing finale.
<![if !supportEmptyParas]> <![endif]>
<![if !supportEmptyParas]> <![endif]>
---
<![if !supportEmptyParas]> <![endif]>
These reviews were originally written by Geoff Wallis for fRoots magazine – www.frootsmag.com.
<![if !supportEmptyParas]> <![endif]>
For more information about Mick O'Brien and Caoimín Ó Raghallaigh contact acmrecords@eircom.net.
<![if !supportEmptyParas]> <![endif]>
The websites for Michael Hynes & Denis Liddy and Barefield Céilí Band are respectively www.liddy-hynes.com and www.barefieldceiliband.com.
<![if !supportEmptyParas]> <![endif]>
More information about Meabh O'Hare and Conor Byrne can be found at www.ceolbavan.com.
<![if !supportEmptyParas]> <![endif]>
Mick Mulvey's website is www.mickmulvey.co.uk.
<![if !supportEmptyParas]> <![endif]>
Legacy is available directly from www.tommyosullivan.net.
<![if !supportEmptyParas]> <![endif]>
---
<![if !supportEmptyParas]> <![endif]>