Marcas Ó Murchú
<![if !supportEmptyParas]> <![endif]>
Turas Ceoil
<![if !supportEmptyParas]> <![endif]>
Cló Iar-Chonnachta CICD 163; 46 minutes; 2006
<![if !supportEmptyParas]> <![endif]>
Belfast has produced a wealth of fine flute players (including Harry Bradley and Desi Wilkinson) though one of the less well-known outside his home turf (and he's been long based in Derry) is Marcas Ó Murchú whose debut solo album, the extraordinary Ó Bhéal go Béal was released almost ten years ago, revealing in the process a master of the instrument capable of running the gamut from sheer powerful rhythmicity to sublime delicacy. <![if !vml]>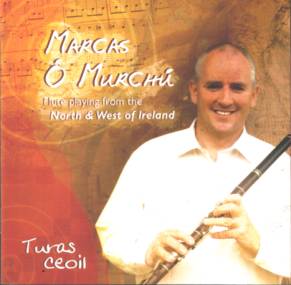 <![endif]>
<![if !supportEmptyParas]> <![endif]>
A decade on some of his wildness may have been tempered by time, but Marcas remains an unequivocal class act and one worthy of a far greater audience. Though substantially shorter than its predecessor (which rolled in at a stonking seventy-one minutes), Turas Cheoil ('Musical Journey') provides more than a swathe of evidence that his skills remain undiminished.
<![if !supportEmptyParas]> <![endif]>
Like his Belfast colleagues Marcas leans heavily towards the musical traditions of North Connaught and there's a fair smattering of tunes from that region including the sprightly jig The Humours of Ballinafad and a couple of reels composed by the late Josie McDermott. Add to that brew some perky polkas and fine air playing (including Boyle Abbey on whistle) and the resplendence of his music forms a handsome parade.
<![if !supportEmptyParas]> <![endif]>
Several tracks are unaccompanied, but when the backing's there it's as good as it gets and features Altan's Ciarán Curran on cittern and the redoubtable duo of Séamus Quinn and Séamus O'Kane on piano and bodhrán. Guests include the fiddlers Ben Lennon and Oisín Mac Diarmada while Spanish piper José Clement pops up on Paddy Doory's Fancy and no fewer than nine fellow flute players join in the fun on a set of jigs composed by Vincent Broderick. The album also comes equipped with extensive liner notes on the tunes' sources.
<![if !supportEmptyParas]> <![endif]>
---
<![if !supportEmptyParas]> <![endif]>
This review by Geoff Wallis first appeared in Songlines magazine – www.songlines.co.uk.
<![if !supportEmptyParas]> <![endif]>
More information about the label can be found at www.cic.ie.
<![if !supportEmptyParas]> <![endif]>
---
<![if !supportEmptyParas]> <![endif]>
<![if !supportEmptyParas]> <![endif]>