Masters of the Irish Guitar
<![if !supportEmptyParas]> <![endif]>
Shanachie 78064; 53 minutes; 2006
<![if !supportEmptyParas]> <![endif]>
The guitar, once rarely heard in Irish music, is now firmly established as a sophisticated solo vehicle for traditional airs and dance tunes. This compilation showcases the virtuosity and widely diverse styles of nine of today's leading Irish guitarists. From elegant finger-style settings of ancient harp tunes to hot flatpicking solos, Masters of the Irish Guitar offers music to please every guitar lover. [From the CD's tray liner]
<![if !supportEmptyParas]> <![endif]>
If there's one thing guaranteed to get this reviewer's goat (a geriatric Puck Fair rejection by the name of Jimmy) it's claims such as the above whose opening sentence provokes the simple response "says who?" Whatever the Shanachie label and the co-ordinator of this album, Dónal Clancy, might believe, the guitar's role in Irish music remains exceptionally limited. True, there might be a solo spot during a Danú concert for Clancy to showcase his skills, but I've seen Altan and Lúnasa several times and never seen the limelight suddenly descend upon Dáithí Sproule or Donogh Hennessy (who has, of course, now left Lúnasa). Realistically, the only guitarists who regularly enter the spotlight are Dennis Cahill, during his shows with Martin Hayes, and Arty McGlynn, in similar fashion with Nollaig Casey. Then  there's the reference to 'Irish guitarists' which must sadly exclude one of the nine participants on this album, Randal Bays.
<![if !supportEmptyParas]> <![endif]>
<![if !vml]>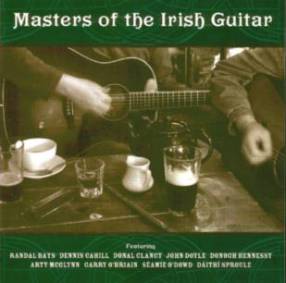 <![endif]>More to the point, this album's title is also deeply questionable. What is an 'Irish guitar'. We all know how the bouzouki became adapted to the needs of Irish accompanists once the instrument arrived in the country via Johnny Moynihan, but the guitar's integral shape has not been similarly revised by its protagonists. True, the DADGAD tuning has become the norm, but even that was an import from the UK folk club scene (and it's sad to see that the very male 'masters' does not include one of the finest players of the instrument using that setting – Sarah McQuaid, author of Ossian's The DADGAD Guitar Book). Indeed, and in contrast, Dennis Cahill continues to utilise the old standard EADGBE tuning.
<![if !supportEmptyParas]> <![endif]>
Additionally, 'masters' is a highly loaded description and one, at least in Irish music terms, usually associated with important players from the past.
<![if !supportEmptyParas]> <![endif]>
As for the music itself, well that familiar Samuel Johnson comment about dogs standing on their hind legs springs to mind. There's no questioning the ability of any of the musicians on this album (Bays, Cahill, Clancy, John Doyle, Hennessy. McGlynn, Garry O'Briain, Séamie O'Dowd and Sproule), but there's plenty of reasons for questioning its existence.
<![if !supportEmptyParas]> <![endif]>
Overall, listening to this CD feels like a dumbing-down experience and makes one wish for a sudden incursion by a fiddler or piper or anyone who can take control of a tune and drag it from the guitarist's hands into a more meaningful world.
<![if !supportEmptyParas]> <![endif]>
Geoff Wallis
<![if !supportEmptyParas]> <![endif]>
13h April, 2006
<![if !supportEmptyParas]> <![endif]>
---
<![if !supportEmptyParas]> <![endif]>
Check www.shanachie.com for more information about this album.
<![if !supportEmptyParas]> <![endif]>
---
<![if !supportEmptyParas]> <![endif]>