Síona
<![if !supportEmptyParas]> <![endif]>
Launching the Boat
<![if !supportEmptyParas]> <![endif]>
Doorla Records DOORLA 001; 38 minutes; 1998
<![if !supportEmptyParas]> <![endif]>
Draíocht
<![if !supportEmptyParas]> <![endif]>
Self-titled
<![if !supportEmptyParas]> <![endif]>
Doorla Records DOORLA 003; 49 minutes; 2004
<![if !supportEmptyParas]> <![endif]>
Land's End
<![if !supportEmptyParas]> <![endif]>
Doorla Records DOORLA 004; 45 minutes; 2006
<![if !supportEmptyParas]> <![endif]>
<![if !supportEmptyParas]> <![endif]>
No matter what you might have been led to believe, a critic's life is often a lonely one where the pile of review-copy CDs never seems to diminish and the deadlines retain a constant Damocletian presence. Sure, one gets to see some great gigs, but much of the time is spent in the electronic isolation of the computer, the CD player and, increasingly, the DVD machine. As such it's always tempting to look for hooks and, indeed, revert to that childhood tendency to create imaginary friends, albeit of a musical nature. <![if !vml]>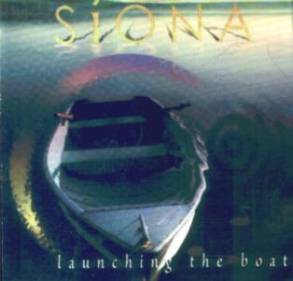 <![endif]>
<![if !supportEmptyParas]> <![endif]>
When the Sligo-Leitrim band Síona's debut, and so far solitary, release hit my deck I was instantly struck by both the album's relaxed, old-time feel, which belied the youth of its members, and the impressive sound of the quartet's flute player, one June Ní Chormaic (or Mc Cormack as she is also known). The warmth of her playing thoroughly imbued a remarkable rendition of Dan Breen's reel while its spirit was rampantly evident on The Castle Set.
<![if !supportEmptyParas]> <![endif]>
On occasional trips to Sligo I would check the session pubs, but was never able to catch June in the musical act. Her reputation was spreading way beyond the county's bounds too and resulted in her appearance on the first volume of Kevin Krell's Wooden Flute Obsession. I knew too that she was seeking a name for a new venture, a musical partnership with her husband, the Monaghan harper Michael Rooney, though it was not until 2004 that an album bearing their names landed on my doormat.
<![if !supportEmptyParas]> <![endif]>
For some long forgotten reason I never then wrote a review of the debut album bearing the couple's chosen moniker of Draíocht (Irish for 'spell', 'charm' or 'romance') and cannot recall reading a single account of the album elsewhere, so it's time to make amends for that lapse.
<![if !supportEmptyParas]> <![endif]>
Michael's music had become familiar via his splendid contributions to Mícheál Ó Raghallaigh's The Nervous Man as well as a Cló Iar-Chonnachta CD released with fiddler Oisín Mac Diarmada and banjo player Brian Fitzgerald and I believe that he also released a solo album called Ocras, though I have never seen a copy anywhere. More relevantly, he and June first played together in 1990 and, indeed, Michael makes a guest appearance on Launching the Boat.
<![if !supportEmptyParas]> <![endif]>
<![if !vml]>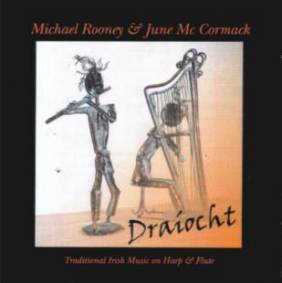 <![endif]>The pair's debut album together is a remarkably mellifluous affair which features some eloquent harp solos from Michael, not least on the jaunty Steve Cooney composition The Fly by Night and his more contemplative self-composed air Aghaidh Jhanuis. However, equally impressive is his imaginative accompaniment of June's flute where, on occasion, he adapts the instrument to modern times by providing what can only be described as a semi-plucked, semi-strummed backing.
<![if !supportEmptyParas]> <![endif]>
However, it's when the pair play in unison that this album's strengths really gel, not least on another pair of Rooney's own compositions, Gort na Móna and Tír Rafartaigh where the contrasting sounds of strings and breath create an intoxicating brew.
<![if !supportEmptyParas]> <![endif]>
If there has to be a favourite track, however, it's the set of reels Sonny's Return and Fr. Grady's Visit to Bocca, the latter deriving from the pen of Josie McDermott where flute and harp simply coalesce together to gorgeous effect.
<![if !supportEmptyParas]> <![endif]>
June's own stand-out track is a set of Sligo tunes kicked off by a sumptuous solo rendition of The Killavil Jig and followed by further imaginative romps through Tommy Mulhaire's Jig and Willie Coleman's Jig to Michael's suitably sparse accompaniment.
<![if !supportEmptyParas]> <![endif]>
Now, it's time to move on and catch up with the pairing's current musical fortunes via the release of Land's End whose disc itself carries an apposite picture of the first time June and Michael appeared on stage together, back in 1990.
<![if !supportEmptyParas]> <![endif]>
This time around they have chosen to broaden their sound via the addition of Fergal Scahill (guitar, bodhrán and fiddle) and  Laura Maher (cello)<![if !vml]>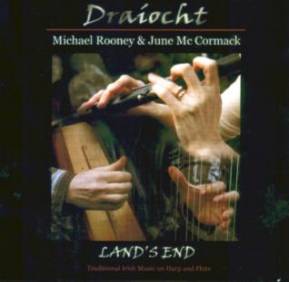 <![endif]> while the Ennis pianist Padraic O'Reilly and Michael's siblings, Fionnuala and Aonghus, appear on one track each. In contrast to the Draíocht debut's very relaxed feel, Land's End is a far more lively affair which sets out its stall from the opening moments of the first track, The Battering Ram/The Legacy. Yet it retains similar degrees of resonance, not least via the addition of Laura's cello on Michael's own spellbinding piece, Boithrín Doire, one of that rare breed, a planxty.
<![if !supportEmptyParas]> <![endif]>
The warm sound of June's flute is apparent throughout and there's many a player who would offer his or her soul to the devil to be able to acquire the quality of timbre achieved on the title track and it's equally succulent successor Mairéad Gheal (two more of Michael's own compositions).
<![if !supportEmptyParas]> <![endif]>
Then there's the sheer rhythmic passion which imbues her playing of Colonel Mc Bain, one of those tunes which requires the musician to produce those wonderful octave 'whoops' so characteristic of the North Connacht tradition.  Her skills are also truly tested on another of Michael's own compositions, the curvaceous Planxty Fitzgerald, a tune with more twists and turns than the back road from Dromahair to Manorhamilton.
<![if !supportEmptyParas]> <![endif]>
Lastly, there's a splendid syncopated rendition of Colm O'Donnell's Road to Monlea – how Michael manages to achieve this effect on the harp, melody and punched chord intertwining, simply beggars belief – featuring more joyous flute as it rolls into McGovern's Favourite.
<![if !supportEmptyParas]> <![endif]>
The relatively gentle sound of harp and flute together is not one which may instantly appeal to those immured in a session-influenced concept of Irish music, but there's an integral depth to the playing on both of Draíocht's albums which well rewards repeated investigation.
<![if !supportEmptyParas]> <![endif]>
As for me, well, I remain astounded by Michael's technical expertise and the persuasiveness of both his playing and compositions and staggered by the sheer fluency and emotional range of June's flute – a truly remarkable pairing.
<![if !supportEmptyParas]> <![endif]>
Geoff Wallis
<![if !supportEmptyParas]> <![endif]>
23rd March, 2006
<![if !supportEmptyParas]> <![endif]>
---
<![if !supportEmptyParas]> <![endif]>
For more information about Draíocht visit www.draiochtmusic.com.
<![if !supportEmptyParas]> <![endif]>
---
<![if !supportEmptyParas]> <![endif]>
<![if !supportEmptyParas]> <![endif]>
<![if !supportEmptyParas]> <![endif]>
<![if !supportEmptyParas]> <![endif]>
<![if !supportEmptyParas]> <![endif]>
<![if !supportEmptyParas]> <![endif]>
<![if !supportEmptyParas]> <![endif]>