Noel Hill
<![if !supportEmptyParas]> <![endif]>
The Irish Concertina 2
<![if !supportEmptyParas]> <![endif]>
Own label NHCD002; 51 minutes; 2005
<![if !supportEmptyParas]> <![endif]>
While some musicians seem to release a new album more often than a rabbit has nookie (you know who you are!), others regard the process as a much more measured affair. So it goes with the Clare-born concertina player Noel Hill who released his debut album some two decades ago and has waited for it to grow up, spend its teenaged years playing Tomb Raider and consorting with young flibbertigibbets, before deciding to issue its successor.  <![if !vml]>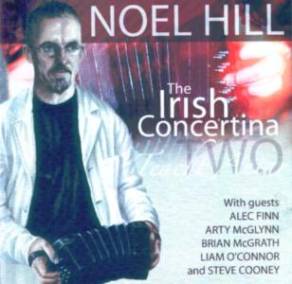 <![endif]>
<![if !supportEmptyParas]> <![endif]>
Times have moved on since Noel's debut, The Irish Concertina, back in the late 1980s when he was still Ireland's only full-time purveyor of said squeeze-box's art. Others have risen to prominence in the interim, but none has ever matched the ubiquitous joy or the definitive statement of intent contained within that original album.
<![if !supportEmptyParas]> <![endif]>
Technically, The Irish Concertina 2 is a wondrous affair, a panoply of rapid-fingered twists and turns which reinvigorates old stand-bys such as Tom Ward's Downfall or The Boys of Ballisadare. More crucially, however, our doyen has retained his ability (and agility) to do things with the concertina of which other exponents can barely dream (and some remain illegal in parts of Mayo). While the dance tunes are imbued with sheer spirit, airs such as Boolavogue represent the embodiment of soul.
<![if !supportEmptyParas]> <![endif]>
All factors are reinforced by a dream-team of accompanists (Finn, McGlynn, McGrath and Cooney) and the sheer brio of Hill's playing. A master has returned.
---
<![if !supportEmptyParas]> <![endif]>
This review by Geoff Wallis originally appeared in fRoots magazine.
<![if !supportEmptyParas]> <![endif]>
For more information on Noel visit www.noelhill.com.
<![if !supportEmptyParas]> <![endif]>
---
<![if !supportEmptyParas]> <![endif]>
The following article by Geoff Wallis was originally published in the 2005 Return to Camden Town magazine.
<![if !supportEmptyParas]> <![endif]>
Raining Concertinas
<![if !supportEmptyParas]> <![endif]>
A conversation with Noel Hill is always an enthralling experience, an oral replication of the fluency, enthusiasm and sheer passion which embodies his music. It was in that renowned music pub The Cobblestone on Dublin's North King Street where we had last met and the talk surged as much as the full-flowing session by the window. Noel's concertina remained resolutely encased as we stood at the bar and engaged in subjects far and wide and as expansive as the stone-covered lands of The Burren.
<![if !supportEmptyParas]> <![endif]>
In those days Noel was living in Dublin, but today he and his family are back in the West of Ireland, though it's Connemara that's now his home and not his native Clare. His children were in bed and there was time to chat on the telephone.
<![if !supportEmptyParas]> <![endif]>
"It was raining concertinas," Noel remembers, when prompted to explain his particular choice of instrument. "It seemed to be fall straight into my lap." Yet, from the time he first heard Willie Clancy play, Noel had always wanted to be a piper.
<![if !supportEmptyParas]> <![endif]>
"I was fascinated by the pipes. I hear Clancy playing in my head all the time and there's a very strong influence of piping on my playing. After moving to Dublin I spent a lot of time in the company of Séamus Ennis who often stayed with us and talked about music and piping – he was a remarkable man."
<![if !supportEmptyParas]> <![endif]>
Indeed, the piping influence remains a fundamental element of Noel's playing and it's not just the spirit of those two late pipers which helps to shape his music, but also the resonance of their chosen instrument. Listen to any of Noel's albums or catch him live and you'll soon become aware of the way he uses certain bass buttons on the concertina to recreate the timbre of the uilleann pipes' drones and regulators, providing the subtlest of backdrops for his eloquent melodic expressions.
<![if !supportEmptyParas]> <![endif]>
However, the concertina was in his blood too since his parents, grandparents and an assortment of aunts and uncles all played the instrument, so he found plenty of encouragement and helpful advice when he first began to learn the box at home in Caherea, eight miles southwest of Ennis. His early repertoire came mostly from his father, mother and his uncle Paddy while another influence was the celebrated Paddy Murphy from nearby Connolly.
<![if !supportEmptyParas]> <![endif]>
The Hills' home was a well-known music house and all manner of musicians were wont to drop by, including the East Clare fiddler Paddy Canny (well-known throughout Ireland thanks to his radio broadcasts – and the uncle of fiddler Martin Hayes) and the flute-player, fiddler and piper Peadar O'Loughlin, with whom Canny and P.J. Hayes had recorded the classic All-Ireland Champions – Violin LP with pianist Bridie Lafferty. Another regular caller was the fiddler and piper Seán Reid, one of the great influences on the development of traditional music in County Clare.
<![if !supportEmptyParas]> <![endif]>
In such company Noel's repertoire and technique rapidly blossomed while membership of one of Frank Custy's music classes led to the development of a lasting bond with his schoolmate, the fiddler Tony Linnane from Corofin.
<![if !supportEmptyParas]> <![endif]>
Yet many a Clare man or woman has looked westwards over the last couple of centuries and, his schooling finished (though his quest for knowledge remains unceasing), Noel as a teenager headed across the ocean to New York in the mid-1970s and spent buoyant years in the States in the eighties.
<![if !supportEmptyParas]> <![endif]>
On his return to Clare he determined to become a full-time musician. Indeed Noel was Ireland's first ever professional concertina player and there have been few others since (Niall Vallely springs to mind). He hitched up with Tony Linnane, banjo-player Kieran Hanrahan and guitarist Tony Callanan to form the group Inchiquin. The band recorded one album and toured Germany before Hanrahan and Callanan left to form Stockton's Wing and become part of one of Ireland's best-known bands in the process. Hill and Linnane continued playing together with Barry Moore (Christy's younger brother, a.k.a. Luka Bloom) on guitar, though Barry had left by the time the pair released their self-titled album for Tara in 1979, an album which still sounds as fresh as the day it was recorded and one which includes some frankly flabbergasting fiddle and concertina duets – and they're aren't many of those around. They also featured on Christy Moore's The Iron Behind the Velvet and Planxty's The Woman I Loved So Well.
<![if !supportEmptyParas]> <![endif]>
However, in those days the only way a musician might make bob or two was to be based in Dublin since there were few regular venues in rural Ireland and, at that time, no recognizable international circuit. Noel decided to move to Dublin while Tony opted for a career outside music. The latter, a quiet, but engaging man, still plays the occasional concert, though when I bumped into him in Glenties during the Donegal Fiddlers' Weekend a couple of years back, he was far happier being handed a fiddle in a local pub and romping through a virtuoso rendition of Eddie Kelly's than he had seemed on stage in the Highlands Hotel an hour earlier. Noel and Tony are still great friends and, according to the former, "meet up for a pint of Lucozade and an occasional session".
<![if !supportEmptyParas]> <![endif]>
So, from the early 1980s onwards Noel has largely ploughed a lone furrow – in his own words "I stubbornly went at it solo" – though he did take time to record two stunning albums with his fellow Clareman, accordionist Tony Mac Mahon. The first was I gCnoc na Graí, recorded live on Dan O'Connell's famous pub in the Sliabh Luachra region in the company of a set of dancers which included Aidan Vaughan. The next, Aislingí Ceoil, came some eight years later in 1993 and was recorded in Dublin with Iarla Ó Lionáird, in the days before the singer became well-known through his work with the Afro Celts.
<![if !supportEmptyParas]> <![endif]>
However, it was 1988 before Noel released his own solo album, The Irish Concertina. By then he'd developed a solid touring schedule, most gigs taking place in North America, and the continent of Europe although he has also played in China and Hong Kong and has toured a number of times in Australia. The album remains a classic statement of not only the concertina's capabilities and Noel's musical intentions, but a joyous exhibition of technical mastery which the man himself describes with characteristic modesty as "my humble effort".
<![if !supportEmptyParas]> <![endif]>
Some seventeen years later, his name now firmly established as one of the key musicians of his generation, Noel has finally recorded a follow-up, currently bearing the working title The Irish Concertina 2, which will be launched in the UK at this year's festival.  It features four of Ireland's most renowned accompanists (Alec Finn, Arty McGlynn, Brian McGrath and Steve Cooney – all celebrated musicians in their own right) and a range of tunes, not just the standard jigs and reels, but slow airs and single jigs, slip jigs and strathspeys" and will appear on Noel's own label.
<![if !supportEmptyParas]> <![endif]>
Asked when he last played in London, Noel takes a moment to reminisce and then recalls trips to the city some twenty or so years ago, visits to The Favourite in Holloway and The White Hart on Fulham Broadway and glorious sessions in the company of Bobby Casey, Jimmy Power, Roger Sherlock, Raymond Roland and Brendan Mulkere – powerful music and exhilarating times.
<![if !supportEmptyParas]> <![endif]>
Music inspired him then and it continues to do so. In one sense Noel sees himself as a conduit, passing on the great store of musical lore and learning acquired over the years. He views himself as being, in part, a transmitter of a great legacy and wants to pass on that knowledge to future generations and, above all, to "do it with respect" for those who came before him. Noel is deeply conscious that, in doing so, he might often seem to be flowing against the tide, that his determination to employ his chosen vehicle, the concertina, to express his natural love for traditional music and explore its innate eloquence and rhythms might seem retrogressive to those who have come to the tradition from other genres and expect a turbo-charged, aggressive, rock-inspired rendition of an assortment of jigs and reels.
<![if !supportEmptyParas]> <![endif]>
Conversely, he also recognizes that, in choosing to play the concertina, "he has taken on the instrument and tried to innovate and extend its possibilities".  Ultimately, however, the crux for Noel is "how musicians add to the tradition and how they pass it on". In the great scheme of things, there's no doubting that Noel has not just added to the tradition but stamped his own indelible imprimatur upon it.
<![if !supportEmptyParas]> <![endif]>
Noel Hill has played a few times in the UK over the last few decades, most notably at the Llangollen Festival, but this will be his first gig in London for some twenty years. Enjoy the experience – you certainly won't regret it!
<![if !supportEmptyParas]> <![endif]>
---
<![if !supportEmptyParas]> <![endif]>