Neil Mulligan
<![if !supportEmptyParas]> <![endif]>
An Tobar Glé
<![if !supportEmptyParas]> <![endif]>
Spring Records SCD 1049; 53 minutes; 2003
<![if !supportEmptyParas]> <![endif]>
Neil Mulligan is a large man physically but cradles the uilleann pipes as though nestling a newborn baby in his arms. That delicacy pervaded his playing throughout his previous two albums (1991's Barr na Cúille and 1997's The Leitrim Thrush) and continues on An Tobar Glé ("The Clear/Bright Well"). The album takes its title from the name of a traditional music club run by Séamus Ennis in Dublin during the 1970s, where the young Neil (or "Neillidh" as Ennis nicknamed him, in honour of the Donegal fiddler Neillidh Boyle) and his father Tom, a notable fiddler, were among the resident musicians. <![if !vml]>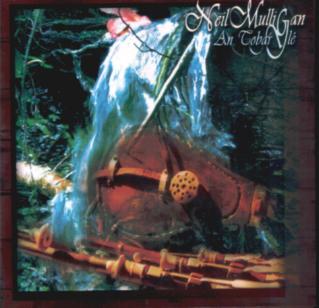 <![endif]>
<![if !supportEmptyParas]> <![endif]>
Though born and raised in Dublin, Neil's music has always been inspired by the music of his father's native County Leitrim, indeed he reckons that Tom (who died in 1984) was the source for many of his tunes. However, others on An Tobar Glé derive from musicians as varied as Willie Clancy, the Roscommon flute-player Peg McGrath, the Dublin piper Tommy Reck and, of course, Ennis himself, while Neil's enduring affection for the sean-nós song tradition is encapsulated by his rendition of the slow air Táimse im' Chodlach which he associates with Seán 'ac Dhonncha.
<![if !supportEmptyParas]> <![endif]>
The best of the airs on the album, however, is a tellingly understated rendition of A Stór Mo Chroí while, contrastingly, the reel The Morning Thrush demonstrates all Neil's dexterity and mastery of the subtle use of the pipes' regulators. All tunes, it should be noted, are played without any form of accompaniment.
<![if !supportEmptyParas]> <![endif]>
Like its predecessor, An Tobar Glé ends with some archive recordings of Tom Mulligan, recorded a couple of years before his death. This time father and son duet on two sets of reels and, although the tape quality is obviously far from ideal, both tracks demonstrate the perfect congruence of their playing.
<![if !supportEmptyParas]> <![endif]>
Finally, replete with informative notes on the tunes and plenty of archive photographs, the album's beautifully designed liner should serve as a model for other small independent labels.
---
<![if !supportEmptyParas]> <![endif]>
This review by Geoff Wallis first appeared in fRoots magazine – www.frootsmag.com.
For more information about Neil visit – www.neilmulligan.com.
---
<![if !supportEmptyParas]> <![endif]>
<![if !supportEmptyParas]> <![endif]>
<![if !supportEmptyParas]> <![endif]>
<![if !supportEmptyParas]> <![endif]>