Liam O'Flynn, Tommy Keane and Ronan Browne
<![if !supportEmptyParas]> <![endif]>
Piper's Choice, Volume 1
<![if !supportEmptyParas]> <![endif]>
Na Píobairí Uilleann NPU DVD 006; 105 min; 2008
<![if !supportEmptyParas]> <![endif]>
<![if !supportEmptyParas]> <![endif]>
One to gladden the hearts of aficionados and enthral intrigued neophytes, this sparkling DVD offer the opportunity not only to investigate the intricacies of possibly Europe's most complex musical instrument but to appreciate the music of three of its finest exponents. <![if !vml]>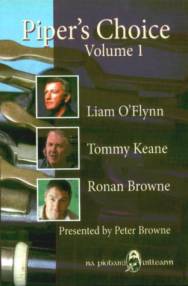 <![endif]>
<![if !supportEmptyParas]> <![endif]>
Said Irish trio consists of Liam O'Flynn (renowned for his work with Planxty, composer Shaun Davey's The Brendan Voyage and poet Seamus Heaney), Ronan Browne (of Afro Celts and Cran fame) and Tommy Keane (whose 1980s stint in London included appearances on Pogues recordings).
<![if !supportEmptyParas]> <![endif]>
The DVD adheres to a rather rigid format, but not detrimentally so. Each piper provides a combination of half a dozen tunes or sets, interspersed with interviews regarding the tunes themselves, technique and influences. These are conducted by yet another well-known piper, Peter Browne, and provide a fascinating insight not only into the musicians' craft and their instruments, but plenty of intriguing tales from pipers' lore too. So, for the technically minded, if you want to know how the late Tommy Reck played an F roll or how (and why) Ronan uses the cran technique, this is definitely a must-have purchase. And, if you haven't a clue what a cran involves, the same advice is still applicable.
<![if !supportEmptyParas]> <![endif]>
However, it's the sheer musicianship of this disparate trio which provides the ultimate enjoyment. Anyone wondering how the pipes' regulators are employed should pay close attention to O'Flynn's tantalising rendition of the air Dark Lochnagar. For tight fingering of the chanter look no further than Keane's Roaring Mary and for sheer tantalising digital dexterity then Browne's your man on The Flogging Reel.
<![if !supportEmptyParas]> <![endif]>
The interviews themselves divulge a wealth of information and also allow Ronan to crack one of the uilleann pipers' oldest jokes in reference to the slip jig An Phis Fhliuch (prudence forbids the translation to English of this tune's title, so look it up on the Net).
<![if !supportEmptyParas]> <![endif]>
All told, this is a cracking package featuring three musicians whose modesty in terms of their place in Ireland's musical heritage should not divert attention from their own wonderful abilities.
<![if !supportEmptyParas]> <![endif]>
---
<![if !supportEmptyParas]> <![endif]>
This review by Geoff Wallis was written for Songlines magazine – www.songlines.co.uk.
<![if !supportEmptyParas]> <![endif]>
---
<![if !supportEmptyParas]> <![endif]>
<![if !supportEmptyParas]> <![endif]>
<![if !supportEmptyParas]> <![endif]>