Planxty
<![if !supportEmptyParas]> <![endif]>
Live 2004
<![if !supportEmptyParas]> <![endif]>
Columbia 202534 9; 2004
<![if !supportEmptyParas]> <![endif]>
After initially testing the water in Lisdoonvarna the previous October, Planxty's Dublin homecoming saw the reunited foursome playing a series of joyously received concerts. The venue was Vicar Street, a snug 300-seater where the front row is just a few feet from the stage. <![if !vml]>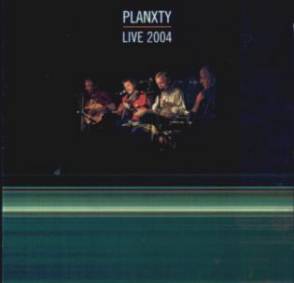 <![endif]>
<![if !supportEmptyParas]> <![endif]>
Live 2004 offers selections from one of those concerts and features several tracks not present on the CD of the same name. These include Christy Moore's eloquent song True Loves Knows No Season and Liam O'Flynn's piping tour de force, the Carolan tune Sí Bheag Sí Mhór.
<![if !supportEmptyParas]> <![endif]>
There's plenty of stage banter (and one of Christy's famous examples of how to put down a heckler) and the camera captures both the intimacy of the occasion and the intricacy of Planxty's musicianship. Indeed watching close-ups of O'Flynn's flying fingers and the intertwining devilry produced by Andy Irvine and Dónal Lunny on the strings is fascinating in itself.
<![if !supportEmptyParas]> <![endif]>
Additionally, the DVD includes three bonus tracks, Andy's song My Heart is Tonight in Ireland, Christy's version of Mickey McConnell's Only Our Rivers Run Free and an O'Flynn whistle solo O'Dwyer of the Glen.
<![if !supportEmptyParas]> <![endif]>
But that's not all you get for your money, for the DVD also features a documentary by Philip King and Nuala O'Connor on the band's reformation, including some wonderful monochrome archive footage from the early 1970s (and, it has to be said, some wonderful archive hairstyles too) demonstrating just how impassioned Planxty's music was then and remains so now. As their erstwhile manager remarks of the band, with especial reference to Liam, "You had three hippies up there ... and you had this civil servant in the middle, and he's producing the magic."
<![if !supportEmptyParas]> <![endif]>
Add to that a separate section of interviews with each of the band (including Christy's tale of "the man from Portlaoise" – you'll have to buy the DVD to learn what that's all about) and this is almost the perfect package. It loses that one star simply because, hard to credit, but the band subsequently achieved even greater heights, as revealed by their momentous Barbican gig.
<![if !supportEmptyParas]> <![endif]>
---
<![if !supportEmptyParas]> <![endif]>
This review by Geoff Wallis was written for Songlines magazine – www.songlines.co.uk.
<![if !supportEmptyParas]> <![endif]>
---
<![if !supportEmptyParas]> <![endif]>
<![if !supportEmptyParas]> <![endif]>
<![if !supportEmptyParas]> <![endif]>