Padraic O'Reilly
<![if !supportEmptyParas]> <![endif]>
Highly Strung!
<![if !supportEmptyParas]> <![endif]>
Rath Records RRCD004; 53 minutes; 2007
<![if !supportEmptyParas]> <![endif]>
Impartiality is central to the reviewer's trade, but sometimes it's almost unreasonably difficult not to dislike a new album before the disc has even slid into the CD player. Unfortunately, the second album by the Corofin, Co. Clare, pianist Padraic O'Reilly falls into this category and it is almost entirely not his fault. Courtesy of poor packaging by his UK PR company, a probable night spent underneath a package of ploughshares in the hold of a Ryanair jet and then a morning undergoing a full softening up by those ex-street-fighters masquerading as postal operatives in Athlone, I can safely report that this is the first album I have ever received which arrived as a collection of shards of black and clear plastic.
<![if !supportEmptyParas]> <![endif]>
<![if !vml]>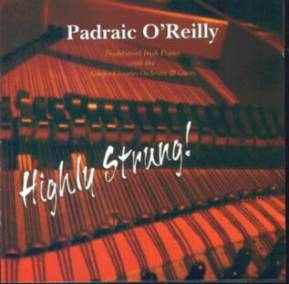 <![endif]>All that remained intact was the disc itself and the liner booklet. Perusing the latter's cover immediately turned me further against poor Padraic for boldly claiming to be playing 'Traditional Irish piano'. Musing upon the nature of such an instrument, I wondered whether there had been some promise of Dev's which I had somehow overlooked in my studies of Irish history – "a traditional Irish piano in every traditional Irish home" – in any case, it would not have been enacted until the Lemass era. Alternatively, perhaps reference to such an instrument appeared as a previously undiscovered footnote in the constitution of the Gaelic League.
<![if !supportEmptyParas]> <![endif]>
Whatever the case, it is time to revert to that essential state of objectivity. Highly Strung! is the second album by the pianist Padraic O'Reilly, a former member of the teenage band Turas and leader of the Ennis Céilí Band. On this album of largely traditional tunes (plus two Percy French melodies and more recent pieces by Padraic himself and his brother Damien, Michael Rooney and Steve Cooney) he reveals both a noteworthy dexterity and an admirable awareness of how best to exploit the piano's ability to interpret said melodies.
<![if !supportEmptyParas]> <![endif]>
Padraic is accompanied by Siobhán O'Donnell on bodhrán, bouzouki player Cyril O'Donoghue, and guitarists Martin O'Malley, Graham Dunne and Damien O'Reilly (who also provides accordion on Sliabh Geal Gua na Féile). Additionally, on several tracks Padraic is joined by the somewhat grandiosely titled Corofin Chamber Orchestra, but often here an otherwise lively album becomes instantly soporific as on the transformation of Ed Reavy's reel Love at the Endings into a maudlin and utterly cloying slow air (the sort of music that probably goes down well with diners waiting to be seated at the Old Ground Hotel).
<![if !supportEmptyParas]> <![endif]>
Truth be told, however, though admiration for Padraic's skills cannot be denied, this is an album which leaves this reviewer utterly cold and completely convinced that the combined sound of bodhrán, bouzouki and piano is one that should be swept under the aural carpet as rapidly as possibly. However, worst of all is an horrendous string-accompanied rendition of The Japanese Hornpipe which lacks every single aspect of the playing of the musician with whom the tune is most closely associated, the late John Doherty.
<![if !supportEmptyParas]> <![endif]>
In conclusion, I am reminded of Samuel Johnson's appreciation of the ability of dogs to stand on their hind legs.
<![if !supportEmptyParas]> <![endif]>
Geoff Wallis
<![if !supportEmptyParas]> <![endif]>
20th July, 2007
<![if !supportEmptyParas]> <![endif]>
---
<![if !supportEmptyParas]> <![endif]>
Click here to visit Padraic's website.
<![if !supportEmptyParas]> <![endif]>
---
<![if !supportEmptyParas]> <![endif]>
<![if !supportEmptyParas]> <![endif]>