Patsy Touhey
<![if !supportEmptyParas]> <![endif]>
The Piping of Patsy Touhey
<![if !supportEmptyParas]> <![endif]>
Na Píobairí Uilleann NPU CD 001; 54 minutes; 2005
<![if !supportEmptyParas]> <![endif]>
Born near Loughrea, County Galway in 1865, Patsy Touhey emigrated to the USA with his parents some ten years later. Patsy followed in his father's footsteps by becoming a professional uilleann piper, touring music halls with his wife Mary, a dancer, appearing in comic sketches and, most notably, playing at the Chicago World's Fair in 1893. He began his recording career as a private venture in 1901, using the then groundbreaking phonograph cylinder technology and hawking his products, tunes often accompanied by his own spoken introductions, at his appearances. He did make a few 78 rpm disc recordings later in his career (Touhey died in 1923) and these, alongside a selection of the cylinders were remastered and originally issued in cassette format by the Irish piping organisation, Na Píobairí Uilleann in the early 1990s. 
<![if !supportEmptyParas]> <![endif]>
<![if !vml]>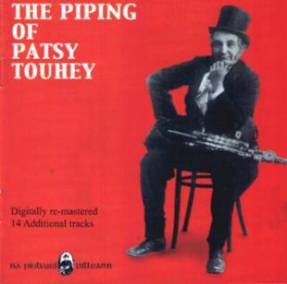 <![endif]>This new digitally remastered release adds fourteen tracks to the cassette's previous twenty-two and, although the resulting quality can never be compared to the products of modern studios – after all we're talking about material more than a century old – they still provide a cornucopia of delights for lovers of piping. Fully supporting the collector Francis O'Neill's belief that Touhey was the leading Irish musician of his time, the recordings demonstrate an adroit craftsman at work, sparsely using the drones and employing the pipes' regulators skilfully and appositely to punctuate and emphasize key moments in a tune.
<![if !supportEmptyParas]> <![endif]>
Many of the tracks here consist simply of a single tune and some are no more than snapshots of the musician, but their entirety fully reinforces his status and reputation.
<![if !supportEmptyParas]> <![endif]>
<![if !supportEmptyParas]> <![endif]>
---
<![if !supportEmptyParas]> <![endif]>
This review by Geoff Wallis originally appeared in Songlines  - www.songlines.co.uk.
<![if !supportEmptyParas]> <![endif]>
Click here for more information about Na Píobairí Uilleann.
<![if !supportEmptyParas]> <![endif]>
---
<![if !supportEmptyParas]> <![endif]>
<![if !supportEmptyParas]> <![endif]>
<![if !supportEmptyParas]> <![endif]>
<![if !supportEmptyParas]> <![endif]>