PV O'Donnell
<![if !supportEmptyParas]> <![endif]>
Donegal Fiddler
<![if !supportEmptyParas]> <![endif]>
Own label – no catalogue number; 44 minutes; 2006
<![if !supportEmptyParas]> <![endif]>
Fisherman's Lilt/Old High Reel (reels); Joe Derrane's/Francis [sic] Mooney's (barndances); Down the Back Lane/The Haunted House (jigs); Gatineau/Leslie's (reels); O'Carolan's Draught (air); Driving the Cows/Bowlegged Tailor (jigs); Golden Eagle/Acrobat (hornpipes); Derry Fiddler's Lament (air); King of the Clans/Ten Pound Float (reels); El Redondo Encantado (redondo); Old Blackbird/Blackbird (hornpipes); Ben Hill/Rossmore Jetty (reels); Dever the Dancer/Humours of Derrykissane/Paddy Hiudai's [sic] (slip jigs); Las Perlitas Polka.
<![if !supportEmptyParas]> <![endif]>
Unlike a Ronseal product this album by the Buncrana-born fiddler does not exactly fulfil the promise suggested by its title. True, PV does come from Donegal, but has spent the last thirty years in North America, making music first as a member of the band Barley Bree and since 1987 as a solo musician. His credentials are on view at www.pvodonnell.com and a quick click on the 'services offered' button on his site's sidebar will provide information about his current activities which include playing at weddings, cocktail hours and 'other memorable occasions'. <![if !vml]>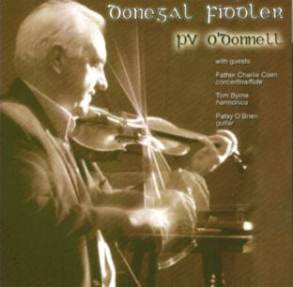 <![endif]>
<![if !supportEmptyParas]> <![endif]>
Now there's no doubting that the man is a fine fiddler, but this album (his second solo venture) has about as much to do with Donegal as a halibut's connection with the films of Luis Bunuel and the listener will find none of the tune types usually associated with said county, such as the highland or strathspey, on this album. Indeed, it's only on certain tracks – especially the set of slip jigs commencing with Dever the Dancer where the combination of plangency and verve is immediately obvious – that the listener can actually verify the fiddler's Donegal roots.
<![if !supportEmptyParas]> <![endif]>
The album is also marred by the inclusion of that most hackneyed of all Irish airs, The Londonderry (a.k.a. Danny Boy and listed here as the Derry Fiddler's Lament), horrifically twee pizzicato playing on Las Perlitas Polka (which even Seán McGuire in his most misguided moments would have regarded as outré), and utterly obtrusive guitar accompaniment from Patsy O'Brien.
<![if !supportEmptyParas]> <![endif]>
The album does burst into some kind of life during PV's duets with the Galway-born Fr. Charlie Coen (concertina and flute), though yet again the guitar is far too high in the mix. However, similar duets with harmonica player Tom Byrne are far too redolent of Workers' Playtime, though Joe Derrane's barndance does retain its initial impact.
<![if !supportEmptyParas]> <![endif]>
Yet sadly there's more to criticize. The liner insert (a mere four-page 'booklet', including front and rear covers) is riddled with typographical errors. So, for instance, 'O'Donnell's fiddling was learned and nurtured among the mountain fiddlers of Donegal and County Claire' [sic]. Any information about said mountains of Clare should be transmitted rapidly to the Ordnance Survey of Ireland.
<![if !supportEmptyParas]> <![endif]>
Then Charlie Coen actually receives a longer biographical piece than the main man in which we are told that he 'will speak about and demonstrate on his instruments his experiences of Ireland as found in his homeland and here in the United States including how such historical events as the Famine and immigration has influenced its development'. Clearly some eejit has copied this from a press release, but I'd still be keen to see Charlie demonstrate Irish history on a concertina.
<![if !supportEmptyParas]> <![endif]>
There's more to come, including a double misspelling of 'uilleann' and the fact that PV believes that there's some presumably Arabic-Shetland fiddler called 'Ali Bain'. Add to that an accordionist by the name of 'John Whalen', a completely wrong version of the name of Pat Mulhearne (O'Donnell's Inishowen mentor), a band called 'Steel Eye Span' and, worst of the lot, a 'tune learned from my good friend James Burne' – such a 'good friend' that PV has somehow forgotten how to spell his name correctly.
<![if !supportEmptyParas]> <![endif]>
Overall, the conclusion must be that this album is a promotional product directed at the US 'shamrock and leprechaun market', those who view Ireland through green-tinted lenses and expect to be greeted by Darby O'Gill on disembarkation at Shannon International Airport before being whisked away by coach to the 'delights' of Bunratty Castle. The rest of us should just ignore this CD.
<![if !supportEmptyParas]> <![endif]>
---
<![if !supportEmptyParas]> <![endif]>
This review was written by Geoff Wallis for Musical Traditions.
<![if !supportEmptyParas]> <![endif]>
---
<![if !supportEmptyParas]> <![endif]>