Séamus Quinn & Gary Hastings
<![if !supportEmptyParas]> <![endif]>
Slán le Loch Eírne
<![if !supportEmptyParas]> <![endif]>
Cló Iar-Chonnachta CICD 152; 46 minutes; 2002
<![if !supportEmptyParas]> <![endif]>
<![if !supportEmptyParas]> <![endif]>
Brian Rooney
<![if !supportEmptyParas]> <![endif]>
Leitrim To London
<![if !supportEmptyParas]> <![endif]>
Phaeton SPINCD1004; 41 minutes; 2002
<![if !supportEmptyParas]> <![endif]>
<![if !supportEmptyParas]> <![endif]>
<![if !vml]>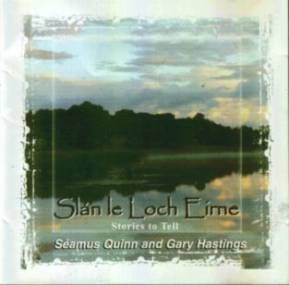 <![endif]>Take a Roman Catholic Priest from Co. Fermanagh (Quinn) and a Church of Ireland pastor from Belfast (Hastings) and, as Father Jack would say, "that would be an ecumenical matter", except, in this case, the pair have collaborated to conjure up a joyous concoction of traditional music. Produced by the quiet man of Altan, bouzouki player Ciarán Curran, Slán le Loch Eírne ('Farewell to Lough Erne'), combines the musical prowess of two of Ireland's most adept traditional musicians. While Quinn's fiddle style leans towards the Sligo masters, Coleman, Killoran and Morrison, Hastings' flute is imbued by the music he learned from the likes of Fermanagh's Cathal McConnell or the 78s of the Leitrim flute-player John McKenna. An ensuing stream of delightful music pours forth from the pair's interactions, while Séamus also demonstrates his virtuosity on the melodeon and piano. Strangely, there are none of the slow airs for which Gary is renowned, but he does produce a sprightly collection of fifing tunes, The Bugle Hornpipe/Number Five on a thoroughly engaging album.
<![if !supportEmptyParas]> <![endif]>
<![if !vml]>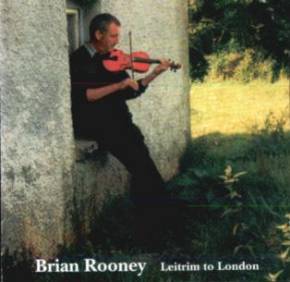 <![endif]>Brian Rooney hails from Kiltyclogher in County Leitrim, no more than fifteen miles from Derrygonnelly, the birthplace of Séamus Quinn. Yet the distance between their respective fiddle styles is far greater, determined in part by Rooney's long residence in London and the diversity of traditional styles he has encountered. His classy debut album, The Godfather, was one of the unexpected delights of 1999, taking his music beyond the Irish bars of Old London Town to new audiences and considerable, deserved acclaim in his native country. Coincidentally, Séamus Quinn contributes part of the liner notes of Leitrim to London and puts his finger smack on the button of Rooney's skill in texturing his music "through his own intuitive and exquisitely sensitive weave of bowing and ornamentation". On the lighter dance tunes, such as the jig Paddy in London, Brian's fiddle seems almost to sing while, on the almost mournful hornpipe, P.J.Maloney's, it's starkly plangent and, overall, there's more than enough variety in Rooney's playing to satisfy even the meanest spirit.
<![if !supportEmptyParas]> <![endif]>
---
<![if !supportEmptyParas]> <![endif]>
These reviews by Geoff Wallis first appeared in fRoots magazine – www.frootsmag.com.
For more information about Cló Iar-Chonnachta visit www.cic.ie.
Phateon's recordings are available from Claddagh Records – www.claddaghrecords.com.
---
<![if !supportEmptyParas]> <![endif]>