The Red Hat Band
<![if !supportEmptyParas]> <![endif]>
Covering Ground
<![if !supportEmptyParas]> <![endif]>
Red Hat Music RHMCD100; 55 minutes; 2003
<![if !supportEmptyParas]> <![endif]>
<![if !supportEmptyParas]> <![endif]>
The Red Hat Band is not really a band at all and, from what I can tell (there are no pictures in the liner to prove otherwise) none of them sports headgear of the appropriate hue. However, do not be deterred, for this particular grouping was formed with the unique intention of representing a website – www.redhatmusic.com/ - which was established in 2002 to promote independently-made recordings of Irish music to a worldwide audience. <![if !vml]>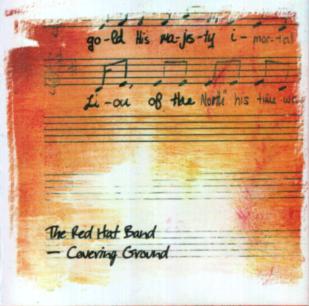 <![endif]>
<![if !supportEmptyParas]> <![endif]>
One of the site's co-founders, the uilleann piper and whistler Díarmaid Moynihan, came up with the idea of assembling a band to promote the venture and Covering Ground is the ensuing product, recorded live in Cork city in February, 2003. The musicians he recruited are an intriguing mix and consist of two from Flook (the flute and whistle player Brian Finnegan and his accomplice on bodhrán John Jo Kelly) together with another duo from Díarmaid's band Calico (guitarist Donncha Moynihan and fiddler and vocalist Deirdre Moynihan) plus the singer Áine Whelan and bassist Noel Barrett.
<![if !supportEmptyParas]> <![endif]>
Eleven of the album's thirteen tracks were recorded live while the final two are radio mixes of a pair of a song and a tune presumably recorded in the studio. As Díarmaid and his Red Hat co-founder the surname-lacking Joe write in the liner:
<![if !supportEmptyParas]> <![endif]>
The first time the full line-up was put together under one roof was on the stage. This is a live recording in the truest possible sense – no overdubs or drop-ins, everybody played at the same time before two jam-packed gigs in Cork. It was very much a case of necks on the line....
<![if !supportEmptyParas]> <![endif]>
Indeed the musicians' proficiency is obvious through a remarkably glitch-free recording.
<![if !supportEmptyParas]> <![endif]>
The Calico influence pervades much of this recording and anyone familiar with the band's two albums, Celanova Square and Songdogs, will be well prepared for the mix of traditional Irish and Breton tunes, Díarmaid's compositions in the traditional idiom and contemporary songs. However, the last category features works by Janis Ian, Shawn Colvin, Boo Hewerdine and Robbie Robertson, so it's sad to note that the only recently written work by an Irish singer-songwriter is Deirdre Moynihan's Safe Haven. It would have been pleasant and perhaps more purposive, considering Red Hat's intentions, to have included songs by some of the less well-known native singer-songwriters, such as Patsy O'Brien, Martin Donnelly or the Mary Fitzgerald/Kate Purcell combination.
<![if !supportEmptyParas]> <![endif]>
That said, some of the music on the album is tremendous, especially the rip-roaring rendition of the coupling of Díarmaid's The Coalface with Nollaig Casey's Dancing in Allihies where his pipes and Brian's flute strike a wonderful balance. It must be said that John Joe's drum is virtually non-existent in the mix (which some might argue as a good thing, though one sight of the Kelly bodhrán in action might convince otherwise). There's also a splendidly bouncy mix of a Breton tune, Storvan, with an Asturian piece, where Brian and Díarmaid sound as if they've been playing together for years.
<![if !supportEmptyParas]> <![endif]>
Some might also have favoured more instrumental tracks in preference to some of the weaker songs and there's something a little odd in two women from Cork singing the spiritual Jesus is Comin' Soon in transatlantic accents, but overall this is a project to be admired and supported.
<![if !supportEmptyParas]> <![endif]>
---
<![if !supportEmptyParas]> <![endif]>
This is an original review by Geoff Wallis.
<![if !supportEmptyParas]> <![endif]>
Click here to visit the Red Hat Music site.
<![if !supportEmptyParas]> <![endif]>
---
<![if !supportEmptyParas]> <![endif]>