Rachel Hair
<![if !supportEmptyParas]> <![endif]>
Hubcaps & Potholes
<![if !supportEmptyParas]> <![endif]>
March Hair Records MHRCD 001; 46 minutes; 2006
<![if !supportEmptyParas]> <![endif]>
Subtitled 'Scottish, Irish and Original Harp Music', Hubcaps & Potholes marks the recording debut of one of the most innovative young musicians to have emerged over the last few years. Of mixed Scots and Irish parents (her mother is from County Antrim), Rachel hails from Ullapool, up in the far northwest of Scotland and has already gained a deserved reputation for the sheer vivacity and technical expertise of her performances. <![if !vml]>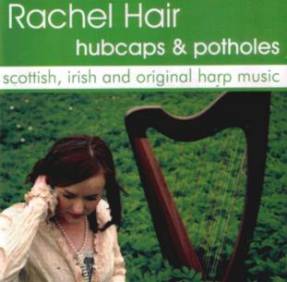 <![endif]>
<![if !supportEmptyParas]> <![endif]>
The harping traditions of both Scotland and Ireland have been well documented, but listening to this debut album reveals a harper who is both imbued by her musical heritage and willing to exploit the potential of both her chosen instrument and her own imagination. In that sense Rachel follows in the footsteps of Máire Ni Chathasaigh, Alison Kinnaird and Laoise Kelly, but also has much in common with the wonderful and oft overlooked Ursula Burns (from Portaferry via Belfast).
<![if !supportEmptyParas]> <![endif]>
Which hand Rachel uses to pluck her harp's melodies is unknown, but, like Ursula, Laoise and Michael Rooney too, she has that uncommon ability (and agility) to provide wonderfully syncopated chordal accompaniment via the other. For evidence look no further than her own sprightly composition, the title track, while her adroit rendition of the polka Art O'Keefe's reveals extraordinary dexterity and an innate rhythmic sense.
<![if !supportEmptyParas]> <![endif]>
Of course, harpers are always judged by the quality of their airs and Rachel provides ample evidence of her skilful sensitivity in the form of the traditional Scottish tune Eilean Aigas. However, it's the sheer perfection of the subsequent set of jigs, kicked off by her own Starry-Eyed Lads and culminating in The Rolling Waves (usually entitled singularly and associated with both Willie Clancy and Tony Mac Mahon), which resolutely catches the ear. Harpers can often be too smooth, basically too damned dulcet, but here Rachel's playing encapsulates all the essential jerkiness of the jig tune's form.
<![if !supportEmptyParas]> <![endif]>
Though much of the album is played solo, three tracks feature Douglas Millar, a formidably sensitive accompanist while the album's tenth cut witnesses the arrival of flute player Peter Webster and another startlingly original tune, Chandni Chowk, in the unusual time signature of 7/8.  Additionally, the closing track, the self-penned Charmed, somehow captures the spirit of the music hall or the pianists who once accompanied silent comedies and provides a jaunty confirmation of both Rachel's skills and her sense of humour and is guaranteed to leave a smile lingering on the listener's face.
<![if !supportEmptyParas]> <![endif]>
Harping albums are often ignored by followers of traditional music, but the captivating Hubcaps & Potholes is guaranteed to provide thorough enjoyment and heralds the arrival of a major new talent.
<![if !supportEmptyParas]> <![endif]>
Geoff Wallis
<![if !supportEmptyParas]> <![endif]>
10th August, 2006
<![if !supportEmptyParas]> <![endif]>
---
<![if !supportEmptyParas]> <![endif]>
For more information about the Rachel visit www.rachelhair.com, a website where copies of the album can also be purchased on-line.
<![if !supportEmptyParas]> <![endif]>
---
<![if !supportEmptyParas]> <![endif]>
<![if !supportEmptyParas]> <![endif]>
<![if !supportEmptyParas]> <![endif]>
<![if !supportEmptyParas]> <![endif]>
<![if !supportEmptyParas]> <![endif]>