The Flute Players of Roscommon, Volume 1
Feadóg Mór Music – no number; 37 minutes; 2004
Roscommon is regarded by some as the most boring county in Ireland, though from this reviewer's perspective Laois has always taken some beating. Whoever holds this view must be discounting traditional music because, at the drop of a hat, anyone can come up with a list of influential musicians. There's Matt Molloy, of course, Packie Duignan, the criminally under-recorded Patsy Hanly, John Wynne (once of Providence), accordionist Alan Kelly plus his brother John, and both John Carty and Catherine McEvoy have roots in the county while Joe Derrane's mother was born there. Add to those names Cathy Jordan and the band Rig the Jig and, well, that's just about it unless one counts Josie McDermott's birth a mile over the border with Sligo as providing honorary Roscommon citizenship and the same for John McKenna working in the Arigna mines.
<![if !supportEmptyParas]> <![endif]>
<![if !vml]>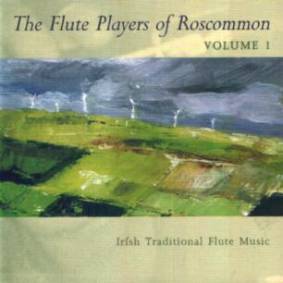 <![endif]>Compared to other counties it's hardly the lengthiest list, but this album of unaccompanied flute music ought to redress the balance. Recorded in Longford (since, you see, Roscommon does not possess a studio), the album's fifteen tracks consist of a mixture of solos and duos and feature Patsy Hanly, Tommy Guihen, Catherine McEvoy, John Kelly, John Carlos, Pat Finn (who actually plays tin whistle on his track), John Wynne, Brian Duke, John P. Carty (fiddler John's father – perhaps one day someone will cajole James Carty into the studio?), Frank Jordan, Patsy McNamara and Bernard Flaherty (of Trip to Sligo renown).
<![if !supportEmptyParas]> <![endif]>
The sound quality overall is excellent, though perhaps the choice of tunes might have encompassed more variety since ten tracks are reels and four are jigs, leaving only the McEvoy/Wynne duet of a pair of barndances as the exception. Correction – the sound quality is excellent barring an alarming aural scrape between tracks twelve and thirteen which has somehow avoided the mastering process. That is a pity since it hardly provides a fitting introduction to Bernard Flaherty's dynamic rendition of Down the Broom/The Gatehouse Maid.
<![if !supportEmptyParas]> <![endif]>
Thankfully, far more attention has been paid to the accompanying sixteen-page liner booklet, although its cover does suggest exactly why so many people equate tedium and Roscommon. This includes a short history of the concert flute, an essay by Paddy Ryan on the county's flute-playing tradition, a typically splenetic and enjoyable piece from Fintan Vallely, detailed biographies of the musicians and credits, all presented with clarity and consideration for the reader.
<![if !supportEmptyParas]> <![endif]>
The music itself is superb and the technical ability often staggering, but sometimes one just yearns for a little variety, an air perhaps or maybe a hornpipe. Hopefully, such longings will be redressed by Volume 2.
<![if !supportEmptyParas]> <![endif]>
Geoff Wallis
<![if !supportEmptyParas]> <![endif]>
19th March, 2005
<![if !supportEmptyParas]> <![endif]>
---
For more information about this CD visit www.roscommonarts.com.
---