The Rough Guide to Irish Music
Geoff Wallis and Sue Wilson
Rough Guides, paperback, 2001, 600 pages
Full index (which had to be omitted because of size constraints)
Additional entries (which had to be omitted for the same reason)
---
Reviews
<![if !vml]>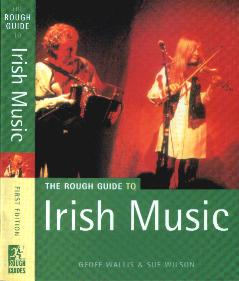 <![endif]>No they don't mean U2. This little bundle of dynamite refers to acoustic and traditional music. Organised with encyclopaedic form into history, participants and significant locations, Wallis and Wilson have a passion for detail and an eye for background few could match. The musicians alphabet that takes up the bulk of the book is exhausting, as you flick from fringe figures like Mary O'Hara to the dyed in the wool trad. Michael Coleman to accidental tourists The Waterboys or envelope pushers like Moving Hearts. Okay, so not everyone is present, but it's still a mighty effort and you'll have endless fun debating over album selections, or trying to find that difficult to remember third album by Scullion! It's also a pretty fair primer if you're planning a melodic trip over the sea with best spots to find live craic, which field holds what festival, the finest establishments for recorded work or even the spot to buy a tin whistle should you want to join a session yourself. 600 pages and pocket-sized - a small batch of great emerald wonder.
Simon Jones, Get Rhythm
---
Some of the best nights of my life have been spent listening to the musicians in this book in many of the venues listed. But whether you're heading off for a session in a bar in Galway or merely settling down in an armchair with The Chieftains on the headphones, this indispensable guide should be by your side.
The Rough Guides are rightly famous for their accuracy, comprehensiveness and insight, but here the series surely reaches a new peak of excellence. It's hard to find fault at all with the way the authors Geoff Wallis and regular Songlines contributor Sue Wilson combine erudition with enthusiasm - and given the pocket size of the book, the amount of information they cram into the magazine is remarkable.
The opening chapter on the history, forms and styles of Irish music is concise and informative but the real meat of the guide is the directory which offers biographies and discographies of more than 300 performers, conveniently grouped in chapters dealing variously with singers, bands, harpists, pipers and others.
Any omissions are by deliberate policy rather than oversight and, for example, you won't find the likes of pop stars Daniel O'Donnell and The Corrs here (although I would have included them, even if the comments were critical, for they undoubtedly utilise aspects of the Irish tradition. But although you can quibble with some of the judgments, if there is a serious error of fact, I didn't find it.
Then there are the highly practical listings of everything from where to find the best pub sessions and festivals to the best record shops and radio stations. Personally, I can't wait for the summer to get on the road to Mayo and Galway, Sligo and Donegal in order to put the guide to the test. And for the price of three pints of Guinness (by which time a decent session has hardly started warming up), it's got to be one of the bargains of the year.
Nigel Williamson, Songlines
---
Petit mais costaud!
Quelques noms parri les certaines de références présentées: The Chieftains, Planxty, The Pogues, Altan, the Black family, Eileen Ivers, Liz Doherty, Denis Murphy, Enya, Máirtín O'Connor, Riverdance... Ne vous fiez pas à son format poche (14.4 x 10.4 cm), "The Rough Guide to Irish Music" en contient plus dans ses pages que beaucoup d'autres publications sur le domaine. L'intérêt de ce guide réside aussi dans la manière d'aborder ce vaste sujet qu'est la musique Irlandaise. Une musique riche et bien représentée comme nous l'exposent Geoff Wallis et Sue Wilson dans les paragraphes particulèrement soignés et illustrés (malgré le peu d'espace) de quelques photos en noir et blanc. Trois chapitres chaperonnent le sommaire. Ca commence par un rappel des origines et des styles tels que marches, set dances, slow aires et planxties. Dans la parte suivante, les auteurs dressent le portrait des chanteurs, groupes, musiciens (uilleann pipers, flute players and whistlers, fiddlers, percussionists, etc.) or familles d'artistes qui jouent, font évoluer, ou sont influencés par cette tradition musical. En précisant, dans chaque cas, le ou les disques essentiels. Le guide se termine par des "Listings" qui répertorient les principaux lieux de concerts, dates, boutiques en Irlande ainsi que les médias, organismes et livres de références. Nouveay titre d'une collection éditée par une société londonienne, cet ouvrage existe uniquement dans sa version d'origine,.en Anglais.
Celtics magazine, #7, December 2001
---