Seán Casey
<![if !supportEmptyParas]> <![endif]>
The Porthole of the Kelp
<![if !supportEmptyParas]> <![endif]>
Bow Hand 002CD; 60 minutes; 2002
<![if !supportEmptyParas]> <![endif]>
Bow Hand is the baby of Dermot Kearney, banjo-player and erstwhile sparring partner of the fiddler Jimmy Power when the latter led sessions at The Victoria in London's Holloway Road in the 1980s. The label's first release was Navvy on the Shore by the larger-than-life and twice as frisky Donegal fiddler, Danny Meehan, and now comes an equally valuable recording from another key figure on the London-Irish music scene. <![if !vml]>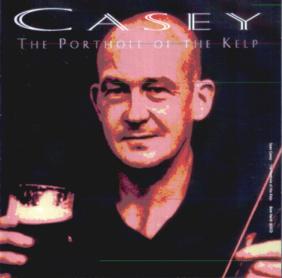 <![endif]>
<![if !supportEmptyParas]> <![endif]>
Seán Casey is, of course, the son of the late Bobby Casey, from the Crosses of Annagh in Co. Clare, whom many reckon to be one of the greatest fiddlers of the latter half of the last century and, sadly, also one of the most under-recorded. Brought up in London's Camden Town in a house where Willie Clancy was the lodger, oddly enough Seán was never taught by his father, but acquired early tuition from the concertina-player and piper, Tommy McCarthy, also learning fiddle technique from Tony Linnane and Brendan Mulkere. Yet it was on the mandolin that Seán first made his name, later also acquiring skills on the mandola and banjo, on the last of which he would often be requested to play a solo at The Victoria. Ill-health forced Jimmy Power to retire from the pub's sessions and Dermot Kearney latched upon Seán as his replacement, much to the latter's surprise, on the fiddle and he's never looked back since.
<![if !supportEmptyParas]> <![endif]>
The Porthole of the Kelp is his debut album and was recorded in the Cricklewood living room of Paddy Gallagher, who accompanies on guitar and bouzouki, with Pete Quinn dropping in for the odd tune on keyboard. Those who've heard Seán play at a session will instantly recognize the wit, sensitivity and effortless vigour which characterises his playing, ever willing to let the melody do the work, but keen to explore its possibilities. These were, of course, essential facets of his father's music and there are many echoes of the great man here, not least a pair of swooping jigs, The Pipe on the Hob and Brendan Tone Rowe's.
<![if !supportEmptyParas]> <![endif]>
Admittedly, the sound quality (direct to DAT) is not the best, though the accompaniment is always spot on whether it's Paddy's stylish tracking of Casey's every move or the resonant chordal landscape painted by Pete's keyboard. As on the reel Colonel Frazer, the latter seems to inspire Seán to broaden his canvas even further, offering a rich concoction of technical agility married to essential soul.
<![if !supportEmptyParas]> <![endif]>
Seán never plays a tune the same way twice, so this is very much a 'one-off' recording, but, hopefully, not the last that those outside London will hear of him.
<![if !supportEmptyParas]> <![endif]>
---
<![if !supportEmptyParas]> <![endif]>
This review by Geoff Wallis was originally written for Irish Music magazine.
<![if !supportEmptyParas]> <![endif]>
For more information on the CD contact Bow Hand at www.dannymeehan.com.
<![if !supportEmptyParas]> <![endif]>
---
<![if !supportEmptyParas]> <![endif]>
<![if !supportEmptyParas]> <![endif]>