Sex, Sca & Sedition: The New Ballads
<![if !supportEmptyParas]> <![endif]>
Free State Records CD Alt 001; 74 minutes; 1999
<![if !supportEmptyParas]> <![endif]>
As Fintan Vallely records in his introduction to this collection, "If video killed the radio star, the radio had already done much to kill off the ballad singer. And indeed the cinema, and in particular, the newspaper and literacy had a hand there too." Bearing the intriguing subtitle "Subaltern elements in contemporary Irish ballads", Sex, Sca & Sedition was the brainchild of the Cork singer Jimmy Crowley and appeared on his own Free State Records as the first and so far only release in its 'Altruistic Series'. <![if !vml]>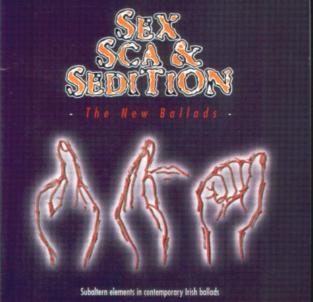 <![endif]>
<![if !supportEmptyParas]> <![endif]>
The album features seventeen then recently composed new ballads 'recorded with an active audience' at the Cork Arts and Theatre Club and at Barr a'Cuma, a pub near Kilgarvan, Co. Kerry (better known as "The Top of Coom"). The 'active' part of that description is worth remembering since the two audiences had little hesitation in singing along with the choruses or shouting an order for a fresh pint.
<![if !supportEmptyParas]> <![endif]>
Though no information is given regarding the singers who almost all sing their own compositions, it would be fair to say that the majority do not earn their living through public performance, though the vocal quality is much better than one might expect and even when the singer does not have the best of voices, the balance is redressed by the quality of the song itself. A particular example would be John Maguire whose vocal shortcomings are more than compensated by the sheer wit of his two songs Me Floppy, Floppy Drive (which Jimmy Crowley himself has recently recorded) and The Roving Irish Pound. All the singers are male bar the duo of Máirín Uí Lionáird and Síle Ní Riordáin (who sing the only Gaelic song on the album – a bawdy ballad about the Clinton-Lewinsky incident).
<![if !supportEmptyParas]> <![endif]>
Humour permeates much of the material here, especially in the songs of Gus McLoughlin who sings variously about the declining morals of the young, the digging of a new sea tunnel and, on Chandelier Charlie, about a boisterous sexual relationship. Sport also figures on Dennis McGarry's Mick Barry from Waterfall, a paean to the Co. Cork star of road bowling while other subjects range from The Ordnance Survey Man from Deaglán Tallon to tourism in The Heritage Trail by Jerry O'Neill. Music is also considered too in Cliff Wedgbury's eulogy to the late Pete Bellamy in Concertina Man and Don Murphy's The Pub Musicians' Complaint (inspired by a pub customer who demanded a Guns 'n' Roses number from a group of traditional musicians) which will strike a chord with many a session regular. A personal favourite is Jerry O'Neill's Ger Mac's Crubeens, a tribute to a Cork delicacy (savoury pig's trotter):
<![if !supportEmptyParas]> <![endif]>
You can have all your pizzas and burgers,
I'd rather a juicy crubeen.
<![if !supportEmptyParas]> <![endif]>
Finally, there is one word of warning. Many of the references in the songs are Cork-specific and some of the local argot may be impenetrable to anyone not born in the city. Indeed, after four years this reviewer is still none the wiser as to the meaning of  'sca' in the album's title  –  a definition would be very welcome!
---
<![if !supportEmptyParas]> <![endif]>
This is an original review by Geoff Wallis.
<![if !supportEmptyParas]> <![endif]>
More information about Free State Records can be found at www.jimmycrowley.com.
<![if !supportEmptyParas]> <![endif]>
---