Séamus Fay
<![if !supportEmptyParas]> <![endif]>
Cavan's Lilter
<![if !supportEmptyParas]> <![endif]>
Cavan Music 00702; 67 minutes; 2003
<![if !supportEmptyParas]> <![endif]>
<![if !supportEmptyParas]> <![endif]>
Ignore the astonishingly drab liner cover, for Cavan's Lilter is one of the brightest, best and startling releases to emerge for many a year. Indeed such skill and imagination does Séamus Fay bring to his mouth music that, at times, it's easy to forget that most of this album's thirty-three tracks are the simple product of the human voice.
<![if !supportEmptyParas]> <![endif]>
<![if !vml]>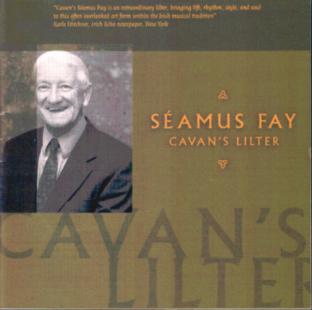 <![endif]>The majority of traditional musicians can lilt a tune, of course, but the art of lilting as a substitute for instrumentation, especially to provide accompaniment for dancers, has almost disappeared. In one sense, therefore, it's ironic that this CD emanates from Cavan, a county whose population is nowadays just over a fifth of the 230,000 or so who lived within its boundaries before the Great Famine. As anyone who has visited the county will know, getting lost in the county's maze of meandering lanes and byways, especially around Lough Oughter, is one of the joys of a visit, but admirable efforts have been made to ensure that Cavan's musical traditions remain highly visible. One part of this was the four-CD boxed set, A Call from the Musical Heart of Cavan. while another Lámh ar Lámh featured a live "house dance" CD recorded at the home of Cavan's Antóin Mac Gabhann and family which, despite being taped in Meath, still bore a strong Cavan influence.
<![if !supportEmptyParas]> <![endif]>
The common factor in both those recordings was Séamus Fay who hails from Drumconnick, near Cavan town. Born seventy years ago, Séamus possesses a massive repertoire of tunes, gleaned from childhood exposure to the 78s purchased for the family gramophone and many years spent listening to the radio while driving school buses. Three times All-Ireland champion lilter between 1959 and 1961 and again in 1969, Séamus has become a kind of Irish national lilting paragon, featured on a multitude of television and radio programmes and the subject of a special University College Cork study.
<![if !supportEmptyParas]> <![endif]>
None of that, of course, accounts for the sheer inventiveness and loquacity of his music, but the extensive liner notes not only join up the dots, but colour in the spaces too. Inside you'll find not only the text of an article which appeared in the rather anachronistically titled local newspaper, The Anglo-Celt, but a biographical sketch of Séamus by Antóin Mac Gabhann, an essay on lilting by Fintan Vallely, and a host of tributes from figures as various as Niall Keegan and Labrhás Ó Murchú (don't let Larry's eulogy deter you!). Intriguingly too, the booklet cocks a snook at corporate sponsorship by being supported by the likes of Fox's Shoe Shop in Cavan town and Widows Bar, Belturbet.
<![if !supportEmptyParas]> <![endif]>
The project's instigator was accordionist Martin Donohoe, who co-produced the album along with Séamus. There's a subtlety in the production too for, while Séamus is the undoubted lead, accompaniment is restricted to bones, dancing feet and the tapping of bodhrán rims. In other words, the voice holds centre stage and, through its variety of diddly-dees, dumpetys and dal-dee-dahs, never fails to engross. Wisely, the producers have also broken up the programme by including the odd song from Séamus here and there (plus a superb Edward Boyle by Aoife Murray who herself lilts a reel elsewhere), an archive recording of Séamus lilting in a duet with his late mother Kathleen, and closing with an interview between Fay and Donohoe.
<![if !supportEmptyParas]> <![endif]>
Divest yourself of any doubts or hesitation, this is an utterly essential album!
<![if !supportEmptyParas]> <![endif]>
---
<![if !supportEmptyParas]> <![endif]>
This is an original review by Geoff Wallis.
Cavan's Lilter is distributed by in Europe by Claddagh – www.claddaghrecords.com – and by Ossian USA – www.ossianusa.com.
<![if !supportEmptyParas]> <![endif]>
---
<![if !supportEmptyParas]> <![endif]>
<![if !supportEmptyParas]> <![endif]>


 

<![if !supportLineBreakNewLine]>
<![endif]>
<![if !supportEmptyParas]> <![endif]>