Sharon Shannon and Friends
<![if !supportEmptyParas]> <![endif]>
Libertango
<![if !supportEmptyParas]> <![endif]>
Independent Records IRL001; 62 minutes; 2003
<![if !supportEmptyParas]> <![endif]>
<![if !supportEmptyParas]> <![endif]>
Liner notes are like Oscar-acceptance speeches, a sure-fire means of telling whether someone still follows the storyline or has completely lost the plot. So when the notes for Sharon Shannon's fifth studio album, Libertango, include thanks to her accountants, hairdresser and dog, you should rightly worry. <![if !vml]>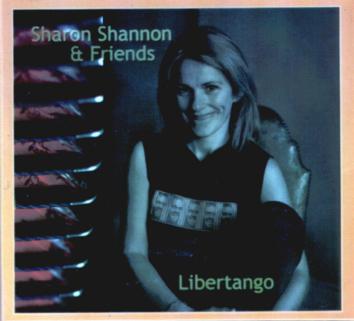 <![endif]>
<![if !supportEmptyParas]> <![endif]>
Indeed, it's a pity that there isn't a picture of the dog's breakfast for that would be more fitting, considering the hotchpotch of styles and unimaginative arrangements that bedevil Libertango. Sharon has long toyed with other musical genres – collaborating on 1994's Out the Gap with reggae producer Denis Bovell, while 2000's The Diamond Mountain Sessions saw her duetting with Galician piper Carlos Nuñez. – but, for every successful alliance, there've been appalling taste lapses such as her rendition of Fleetwood Mac's Never Going Back Again or her employment of the corncrake-larynxed singer Dessie O'Halloran.
<![if !supportEmptyParas]> <![endif]>
Libertango's opening track, The Whitestrand Sting encapsulates all those frustrations, its intro tantalisingly mixing Sharon's accordion and a Latin-style brass section before embarking on a tune more plodding than a clapped-out carthorse, while her version of Peter Green's Albatross is so leaden it's a wonder the poor bird ever managed flight. As for the songs, well, the title track (featuring the late Kirsty MacColl) was originally released on 1996's Each Little Thing. Pauline Scanlon is decidedly off-key on All the Ways You Wander while Sinéad O'Connor is simply herself on a couple of appearances. The two oddest, however, are Róisín Elsafty's rendition of An Phailístin, a Gaelic/Egyptian-language song recounting the suffering of the Palestinian people, but getting a far too jolly accompaniment, and the closing What You Make It (da da da da) which reprises the opening track with the added gloss of the London rapper Marvel (watch out for the undoubted forthcoming single release!).
<![if !supportEmptyParas]> <![endif]>
Sharon's accountants, dog and hairdresser might be happy, but you'd be well advised to seek alternative entertainment. Indeed, it is highly possible that the first-named may become somewhat less than euphoric if the accordionist continues on a career path which sees her increasingly becoming a session-player on her own albums.
<![if !supportEmptyParas]> <![endif]>
---
<![if !supportEmptyParas]> <![endif]>
A slightly shorter version of this review by Geoff Wallis first appeared in Songlines – www.songlines.co.uk.
For more information about Sharon Shannon visit www.independentrecordsltd.com.
---
<![if !supportEmptyParas]> <![endif]>
<![if !supportEmptyParas]> <![endif]>
<![if !supportEmptyParas]> <![endif]>
<![if !supportEmptyParas]> <![endif]>